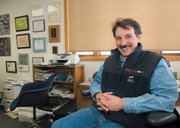 Steamboat Springs — George Krawzoff cleaned out his desk Friday, his last day working for the city of Steamboat Springs.
As the city's transportation director for more than a decade, Krawzoff was a champion of multi-modal solutions to the city's transportation needs. He plans to bring a similar focus to Denver and the Colorado Transportation Commission, a body Gov. Bill Ritter appointed him to. The state Senate confirmed the appointment this week.
Krawzoff said commission members have typically come from the road construction industry, rather than transit. Krawzoff believes Ritter is intentionally shifting the commission's focus with his most recent appointments.
"I think the governor has made a decisive statement that he supports multi-modal solutions to the state's transit problems," Krawzoff said. "My goals are in line with that. I'm looking for multi-modal solutions."
Krawzoff added that he is also a realist that understands most trips are made in private automobiles and that "nobody has a magic wand to just get everyone on a train." One of the Colorado Transportation Commission's duties is to appropriate the state's money for transportation needs, but Krawzoff said that doesn't mean anyone should expect a spending shift toward multi-modal projects.
"The first thing we expect to see is a decline in our ability to fund any project," Krawzoff said.
Krawzoff was referring to current and expected shortfalls in the state's transportation budget. The Colorado Transportation Finance and Implementation Panel estimates a $155 million funding gap by 2030 if no new sources of revenue are established. Krawzoff said it would be a challenge for the Colorado Department of Transportation to maintain its longtime standard of keeping 60 percent of the state's roads in good condition, let alone exploring for any new projects.
Evan Dreyer, a spokesman for Ritter, said he hopes Krawzoff and the rest of the governor's appointments will find innovative ways to approach the state's challenges.
"The governor is looking for diversity in all appointees to boards and commissions," Dreyer said. "In this case, it's a diversity of thoughts and approaches : for how we build a 21st century transportation system."
Krawzoff is leaving his employment with the city because of a conflict of interest. The city receives grants from CDOT, whose funding is allocated by the Transportation Commission.
"It has been a wonderful just over 10 years," Krawzoff said. "It's been a great, great decade working for the city where I have many close friends and people I respect."
To the delight of those friends and coworkers, Krawzoff will not be leaving Steamboat. He plans to stay in the city and do private consulting work.
"We're very sorry to see George leave, but we're very excited he's staying in the community," Deputy City Manager Wendy DuBord said.
Rather than replace Krawzoff, the city's transportation department will be moved under the public works department and its director, Philo Shelton. Shelton managed transportation for the city of Black Hawk before coming to Steamboat.
"It will be me replacing George, and I'm looking forward to it," Shelton said.
Shelton said he will rely heavily on Assistant Transit Manager Jonathon Flint and Mel Baker, manager of the Steamboat Springs Airport. Shelton's previous transportation experience has not included the management of an airport.
- To reach Brandon Gee, call 871-4210
or e-mail bgee@steamboatpilot.com