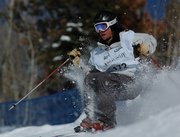 Junior Olympic results
Steamboat slopestyle results
Boys
21. Chapman Geer
22. Jonas Seiler
24. Connelly Garrecht
39. Will Berman
41. Michael Ricker
49. Adrian Pougiales
Steamboat moguls results
Girls
12. Alison Crowe
14. Camille Bucci
34. Shelby Dyer
44. Isabella Cedercreutz
Boys
4. Ryan Dyer
9. Dalton Lee
23. Colton Harding
33. Lars Johnson
35. Michael DeGrandis
Steamboat Springs — Steamboat Springs skiers left the VooDoo run at Steamboat Ski Area, host site for Friday's Junior Olympic moguls competition, satisfied.
"Who didn't run well?" freestyle director Erik Skinner said afterward.
Still, there was a hint of disappointment after the crowds had skied away and the day's bright sun began to set. The Steamboat skiers put forth their most competitive day Friday, and on the third day of the event's five-day run, the club came close to snagging its first medal.
Ryan Dyer finished fourth in the singles moguls competition with 23.52 points, just .14 points shy of third place's bronze belt buckle award.
"Ryan was incredible," Skinner said. "He drifted a little on his bottom air. If he wouldn't have, he would have had a buckle. With the speed he had, the turns he had, if he had hit square on that bottom air, he could have been the winner."
The final run was competitive throughout, with Dyer falling only .29 points shy of the event champion, Reed Snyderman.
"Everyone had really been throwing down and really going for it, so I had to be a lot faster than the first run and make my airs a lot bigger," Dyer said. "After my top air, I felt really strong. I just got a little off balance going into the second jump. It was still a really good run, so I was psyched."
It was a rough day on the course, but a good one, Skinner said. Of the 158 skiers who shot down VooDoo, 40 qualified for finals and took two runs.
The assault, combined with Thursday night's snowfall, left a treacherous course.
The top qualifiers after the first run for both the boys and the girls succumbed to the course and fell from contention - one entering as the event's two-time champion. At least a dozen other competitors also struggled, losing skis or just falling hard.
Skinner called the conditions perfect.
"The first three turns out of the bottom air were man-eaters," Skinner said. "They really had to earn it. In a national event, we definitely want that. We're out here to make sure the best skiers get chosen between first, second and third. It separates the skiers, and we like that."
Plenty of local skiers were able to navigate the icy valleys. Dalton Lee was close behind Dyer on the boys' side, qualifying for finals and finishing with 21.82 points.
"It was really some of the best skiing I've ever seen out of those two," freestyle coach Nate Bird said. "It was really some of Dalton's best. I was really proud of him."
Colton Harding just missed the finals cut, finishing 23rd after the first run, and Lars Johnson and Michael DeGrandis finished high in the field, at 33rd and 35th, respectively.
Alison Crowe led Steamboat's four female entries, capping a strong showing with a 12th-place finish at 17.72 points. Annie Serra won the event at 21.44.
"Crowe had a very solid run considering she's sick as a dog," Bird said. "She sucked it up and threw down a clean run."
Camille Bucci was close behind, finishing 14th. Shelby Dyer was 34th, and Isabella Cedercreutz was 44th in the 72-skier field.
Steamboat may not get a good shot at a top-three finish until Sunday, the event's last day.
Still, Bird said he has big expectations for the young trio of skiers he'll send into today's aerials competition.
Tyler Saxe and Stephen Wilson will compete in the boys division while Codi Coghlan will try to snag a medal on the girls' side.
"They are all youngsters, on the bottom end of the age" group, Bird said. "It's good to have them out there to experience some tougher competition.
"Codi qualified for JO's the first year she was eligible. She should be pretty fun to watch once she gets in there. Little Codi likes to go big."
The aerials competition begins at 10 a.m. on the VooDoo run.