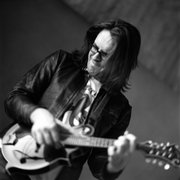 Past Event
Monday, March 10, 2008, 10 p.m.
Tugboat Grill & Pub, 1860 Ski Time Square Drive, Steamboat Springs
Not available / $5
Past Event
Saturday, March 8, 2008, 3 p.m. to 5 p.m.
Gondola Square , 2305 Mount Werner Circle, Steamboat Springs
All ages / Free
Influences
¤ Jeff Austin on the players who brought him to bluegrass:
¤ John Duffey: "John was the leader of a band called (Charlie Waller &) the Country Gentlemen, and his influence on me - he's my kind of mandolin player. He plays with a little less brain and a little more certain other parts of the body. But he also plays with a little more guts. Just tonally the way he sings his notes and the way he comes across on stage, it really was amazing."
¤ Sam Bush: "It was like he's had an idea in his head since he was born, and he keeps working on it and playing and playing. I'm a big fan of artists who see things kind of in the long term. Like Frank Zappa - he had an idea, and he went with it all the way. You can draw a connection all the way through his stuff from beginning to end, and I think Sam is the same way."
Steamboat Springs — Jeff Austin has to talk about how he didn't come around to bluegrass music to talk about how he did.
"Unless you're going to do this in the purest of ways, then I have no place for you," he said in an almost British-sounding accent, spouting off on the genre he played an indisputable role in pushing into popularity.
What Austin has just said is the complete opposite of what he believes.
"A lot of people want to keep the music held to themselves, but you want to make it understandable," Austin said. "I think it goes to how I came into this music. I found artists that I found very accessible."
Austin, who plays mandolin for Yonder Mountain String Band and will perform with a trio Saturday for the Bud Light Rocks the 'Boat free concert series, said he got into bluegrass in his early 20s through artists such as John Duffey and Sam Bush.
"Bluegrass : was the music that when I heard it, I really went, 'You know what, I think this may be for me. I think that this music is what my body and my soul and my whole being has been looking for,'" Austin said.
Larry Keel came to bluegrass much earlier, with his father and brother playing traditional music at just about any social event in his Virginia mountain town. Keel will be in Steamboat for a two-show stay Monday and Tuesday at The Tugboat Grill & Pub.
"Everybody has their own idea of what bluegrass music is," he said. "I took a big interest in it since I was about 8 years old. I just loved it."
Keel, who said he plays "traditional tunes in the traditional manner," has noticed a surge in young bluegrass bands during the past decade. He's excited to see where the move away from old-time music goes.
"I've noticed that bluegrass music is changing due to a lot of the younger folks picking it up and younger bands adding their influence to it - which is a really good thing because it prolongs the life of bluegrass music," Keel said. "It's what is going to make bluegrass survive. Everything's got to change to live."