Photo Gallery
A tribute to Eric O'Hara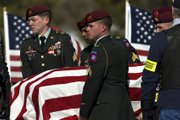 Denver — Flanked by an honor guard of his fellow soldiers, U.S. Army veteran Sgt. Eric O'Hara was laid to rest Thursday at Fort Logan National Cemetery in Denver. While family and friends said their goodbyes one last time, the men from O'Hara's unit said theirs with a 21-gun salute.
O'Hara, 24, died Feb. 28 in Steamboat Springs after falling six stories off the roof of the Steamboat Grand Resort Hotel in a snow removal accident. His death came only a month after his discharge from the Army.
O'Hara served in Iraq and Afghanistan with the Third Brigade of the 82nd Airborne Division. O'Hara ascended to the rank of sergeant, and led more than 80 combat missions during his time overseas.
Hundreds of mourners attended O'Hara's memorial service Wednesday in Steamboat Springs. Thursday's interment at Fort Logan was more intimate.
O'Hara's friends and family looked to one another for comfort in a tear-filled ceremony. His fiancee, Brittany Lamb, clutched her rosary and a small teddy bear and leaned on her parents for support.
Anchor Way Baptist Church Pastor Kevin King led attendees in saying goodbye to their "fallen soldier."
"His body is still here, but he has gone to be with God," King said.
Vehicles in O'Hara's funeral procession bore yellow remembrances painted on their windows, including his nicknames "Irish" and "Chip" and personal messages such as "I'll miss you, brother."
American flags circled the memorial, fluttering in the wind in the hands of Patriot Guard Riders. At the end of the ceremony, O'Hara's parents, Terri Montag and Gregory O'Hara, tearfully accepted folded American flags from an honor guard from the 82nd Airborne.
The honor guard, whose members traveled from Fort Bragg, N.C., to take part in Thursday's service, had served alongside O'Hara in Iraq and Afghanistan.
Capt. Kevin Cosgriff remembered O'Hara's "infectious personality" and dedication to serving his country.
Cosgriff, O'Hara's commanding officer in Iraq, delivered a eulogy at Wednesday's memorial service and took part in Thursday's honor guard.
"Eric's aggressiveness and can-do attitude consistently rubbed off on other paratroopers in the unit," Cosgriff said. "Simply put, Eric was the model and standard to which all other soldiers should epitomize and compare themselves to."
O'Hara spent his childhood on the Front Range before moving to Steamboat Springs in 1998. He graduated from Steamboat Springs High School in 2002.
Since his discharge, O'Hara had been living in Centennial and taking courses at Metropolitan State College of Denver.