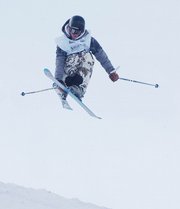 Steamboat Springs — Competing in the Freestyle Junior Olympics on your home mountain comes with plenty of advantages. None of them helped keep the Steamboat Springs Winter Sports Club Freeskier team members from having to grab a shovel Thursday morning to clear the night's snowfall from Bashor Terrain Park at the Steamboat Ski Area.
The home-course advantages did combine to help the team to an improved finish, however. The squad wasn't able to claim any medals for the second consecutive day, but Thursday's slopestyle event was an improvement on Wednesday's halfpipe competition.
"All the local kids, they really skied at their ability or maybe a little above, so that's more than I can ask for," coach Tony Lodico said. "Adrian (Pougiales) skied his best event of the year, then Chapman (Geer) and Jonas (Seiler) skied at the high level they've been skiing at all year, so that was great to see.
"Conor (Garrecht-Connelly) is really young and is going to be showing up in the next couple years, too."
Conditions varied through the day. Snow continued to fall during the first part of the event, but the sun broke through in the afternoon, allowing for some of the most spectacular runs of the day.
Sunny or snowy, Lodico said Steamboat's skiers handled it.
New snow "can slow you down a little, but mostly it's a mental issue because they expect it to slow them down," he said. "The kids really dealt with it well."
It'll be more than just new snow causing competitors problems today in the moguls event.
Steamboat Freestyle director Erik Skinner said the course on the VooDoo run has been growing with every new snow and will turn more treacherous with every trip down as the best paths are carved deeper and the moguls built taller.
He said he expects more than 150 competitors to attempt the icy drop.
"The course has definitely changed and is getting more difficult," Skinner said. "The thing is changing immensely by the hour. It's basically like it's alive."
Still, Steamboat's 10 skiers can expect to enter with an advantage. Six locals boys and four girls will compete and attempt to land the club's first medal of the week.
"Ryan Dyer has that possibility, and Michael Degrandis," Skinner said. "For Michael, it's going to be speed that'll be the factor. Everything else is top notch. He's a younger kid and doesn't really have the weight and muscle to get with those top kids who will be trying to get on the U.S. team next year.
"They have an advantage here. They've been jumping the same airs all year. They know what buildings to look for on their spots - they have known that since January."
Results from Thursday's event weren't available as of press time. Look for the results in Saturday's Steamboat Today.