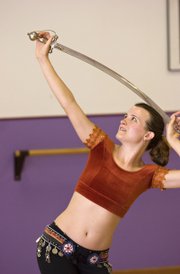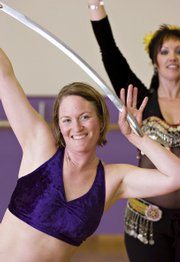 Past Event
Thursday, March 13, 2008, 7 p.m.
Steamboat Springs High School, 45 Maple St., Steamboat Springs
Not available / $8 - $15
Steamboat Springs — The props used in Molly Mintun's belly dancing piece for the 36th annual Steamboat Dance Theater Concert were supposed to be an unofficial secret. She kept it for the better part of six months, through weeks of choreographing and hours of rehearsing.
It wasn't until a week before the show that her prop choice slipped.
"I've had this vision for over a year now. I was just telling people, 'Oh yeah, there are props in my piece,'" said Mintun, who has been involved in the dance theater concert and the belly dancing troupe since 2003.
Her sword-centric performance is one of 17 pieces in this year's concert, which features close to 100 dancers. With the most individually choreographed pieces in the dance theater's history, styles covered include jazz, hip-hop, lyrical and African dancing. It's all set to music that includes Kanye West, Missy Elliott, Ani DiFranco and Imogen Heap.
Eight days from opening night, the wooden floors at Northwest Ballet Studio on Oak Street were booked with back-to-back rehearsals, as dancers tried to nail down the steps in each of their pieces.
"In my memory - and I've been doing this for about 22 years now - this is the largest concert we've ever had, with 17 pieces, and I think we're right up there with the number of dancers," co-producer Gina Toothaker said.
Every dance theater concert features almost every dancer in town, and it's always a massive effort. But Toothaker and co-producer Deb Curd never stop being amazed by how it all comes together.
"What makes every year amazing to me is that all of these choreographers come together within one week before the show and put it all together," Curd said.
"It can be chaotic, but everybody has their job. Every choreographer has their job assigned to them that needs to be done, so it truly is a community theater in many ways," she said.