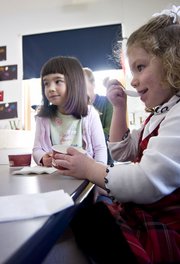 Steamboat Springs — As he discussed his new Cold Stone Creamery franchise Monday, George Barlow pulled cups of ice cream out of a Subway box and handed them to toddlers.
"You guys say, 'Thank you, George,'" Assistant Director Michelle Clark told the children at GrandKids Child Care Center as they headed for the table to feast.
Barlow was giving Steamboat Springs its first taste of local Cold Stone ice cream. He and his wife plan to start selling it Wednesday at the Cold Stone Creamery at their Subway sandwich shop in western Steamboat.
"I really believe in this product; it's an easy sell," Barlow said. "Everybody loves ice cream."
Barlow and Liz Brimmer run three Subway franchises: two in Steamboat and one in Craig. The ice cream will be available Wednesday at the store in the Kum & Go building at 2032 Curve Plaza. The other Steamboat store, at 1815 Central Park Drive, will offer the ice cream by summer, Barlow said. The Craig store is set to have the product by next year.
The couple plans to have six Cold Stone stores by the end of next year.
Barlow said he chose Cold Stone Creamery in part because it offers an interactive experience that is similar to Subway's, where customers go down the line and choose what to put on their sandwiches. At Cold Stone, customers choose the type of ice cream and toppings to have mixed in.
Employees sing for tips, dance and throw ice cream to one another, he said.
The Subway on Central Park Drive held a TCBY, but Barlow, calling TCBY "a dying brand," said he has let the franchise agreement expire.
With their new ice cream venture, Barlow and Brimmer are focusing on community service. That was what brought Barlow to the GrandKids facility and the Doak Walker Care Center alongside Yampa Valley Medical Center on Monday. He handed out about 50 ice cream cups to children, staff members and older residents.
The couple plans to choose a local organization to help out each month for the first six months.
"We don't know all the needs of the community; we wish we did," Barlow said. "We hope people would come to us. Steamboat has never been afraid of doing that."
He said the store would be willing to donate ice cream products or a portion of sales. For the following six months, the pair plans to shift focus to the Make-A-Wish Foundation, which Cold Stone Creamery supports nationally.
Barlow cited recent bad news as additional motivation for he and Brimmer's philanthropic efforts.
"Steamboat's been rocked by a couple really difficult scenarios that have taken place over the past week or 10 days: the people working at the bank, the war hero falling off the building," Barlow said, referring to Feb. 21 theft charges against two former Alpine Bank tellers and the death Thursday of Iraq veteran Eric O'Hara.
"My idea was to get this product into people's hands : to share some cheer," Barlow said.
The folks at GrandKids seemed pretty cheerful with their treats.
"I was impressed," said Clark, the assistant director, who sampled her first Cold Stone ice cream. "A couple teachers are going over there on Wednesday."