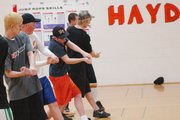 Hayden — The Hayden High School baseball team is as difficult to find as it was to create.
The fields surrounding Hayden High? No - still snow-covered and should be for weeks.
Buried deep in Hayden's gym? Nope.
Instead, the team spent Friday tucked into the Hayden Valley Elementary school gymnasium. The Tigers broke out the bats and gloves and even plopped a home plate on the wood floor Friday, with first-grade snowflake art projects decorating the halls around them and a small, stuffed Cat in the Hat watching from a nearby book display.
It's the last place one would expect to find oiled-up ball gloves. It's the last place one would expect to find baseball - and that doesn't just go for the elementary school gym but Hayden itself.
"Baseball here usually ends when you're 12," team co-captain Jake Magee said.
Their off-the-path location isn't the only unsuspecting thing about the new Tigers.
The team itself is new - just a junior varsity program at this point. But Hayden's roster won't be stocked with rookie players living out a wild tangent.
Rather, the Tigers come in as a complete team, with 16 players who know one another, have played with one another and have dedicated themselves to baseball.
"We have guys that have had some previous experience, and they've made huge strides in the last three years," said Wayne DeLuca, who is volunteering to coach the team.
The squad first came together to play American Legion summer baseball and has done so for the past two years. That experience not only gave DeLuca and some parents ideas about the costs of starting and sustaining a team, it also showed just how competitive the Tigers might be.
"When you walk into a Legion season, where most of the schools are at least Class 3A and go .500, that's a heck of an accomplishment," DeLuca said. "It's a credit to the guys. They work very hard all summer."
Battle for ball
It was a long battle to add baseball to the roster of Tigers sports. The process with the Hayden School Board started last year, and in January, the team finally won approval to start a junior varsity program.
Some hurdles were larger than others. Several Hayden students already have played high school baseball, trekking to Craig to play for Moffat County. If there were suddenly a new Hayden High School varsity team, those players would be required by the Colorado High School Activities Association to play in Hayden, abandoning the teams they've played with for years.
"I had called administrators at CHSAA on two occasions. They were not flexible at all," DeLuca said. "We just wanted to play baseball. We didn't want to mess anyone up. CHSAA said: 'No. That's just the way it is.'
"They formed those rules because of recruiting problems, so you need those rules, but they have to have some type of appeals (process) at CHSAA," DeLuca continued. "We're not trying to mess with the system."
The eventual compromise was a tier-two sport - meaning all the money to fund it had to be raised or donated by the parents - and the junior varsity status.
It was a long, frustrating process for Magee, who said he sat through at least seven School Board meetings with his teammates when the program's fate was on the agenda.
It all paid off Tuesday, when the Hayden High School baseball team gathered to practice for the first time.
"It's huge. Everyone is excited and ready to go," the Tiger junior said. "Being junior varsity, it doesn't bother me as long as I get to play.
"Ask any of these guys, they'll say the same thing."