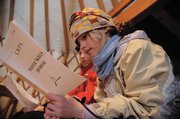 Steamboat Springs — Loaded with backpacks and survival kits, Lowell Whiteman Primary School students trekked into the wilderness near Pearl Lake State Park last week for the school's annual winter skills trip.
Eliza Leeson, one of more than a dozen fifth- and sixth-graders on the trip, learned a tough winter survival lesson before she even had time to unpack her gear: Finding dry firewood and kindling after a steady snowfall is no easy task.
"Not only do you need to pick them dry, but you need to keep them dry as well," said Leeson, as she picked matchstick-sized kindling from the forest's lodgepole pines.
"Every match you have is gold, don't waste them," added sixth-grader Izzy Mumm.
The fire-building lesson was one of many outdoor skills taught by math and social studies teacher Cindy Ruzicka, who also taught students how to build an emergency shelter and administer first aid.
"This is also about teaching responsible citizenship," Ruzicka said. "We are teaching these kids - living where they do in Northwest Colorado - to not only know how to keep themselves alive, but if they were in a situation where they could help someone out, they would know survival skills to maybe help save someone's life."
With two years of winter skills training under their belts, Lowell Whiteman seventh- and eighth-graders spent Tuesday night at the Fetcher Cabins north of Hahn's Peak.
"The idea of what is necessary is an important topic on this trip," said Mike Paulis, a science teacher and trip leader. "Do you need your iPod for three days? Do you need your favorite, but bulky, sweater? It is a great way to get kids to look at needs versus want."
The upper primary students are tasked with spending three to four hours alone in the woods at the conclusion of the trip, demonstrating their newfound fire and emergency shelter-building skills.
"This is such an empowering experience for these kids," Paulis said. "They learn they can do things on their own to ensure their safety."
Self-reliance is one of the themes emphasized by Ruzicka and other trip leaders.
"They are used to always going to the teacher or an adult when they can't figure something out," Ruzicka said. "We are trying to teach them to be more self-reliant and more peer-reliant. I often tell them, 'You know what, I could help you, but why don't you ask a friend first?' And then the friend can help problem-solve with them."
She noted that the survival lessons learned on winter skills days served a former Lowell Whiteman Primary student well last winter, when he was lost in the woods and forced to spend the night in the backcountry.
"He was able to stay calm, start a fire and he made it through the night," she said. "Our goal is to teach kids to be prepared, stay calm, have a plan and work together."
Improving a student's confidence in the classroom is also a byproduct of the trips, Ruzicka added.
"Having had this shared experience, if one of them is struggling in the classroom on some math problem, I can say, 'Remember that hill when we went camping that you didn't think you were going to make it up?'" she said. "We can look back on that experience as a success, and they can translate that on how to get over academic hurdles, as well."
The shrieks of laughter emanating from areas around Pearl Lake signaled that the trip was also about having loads of fun in the great outdoors.
"It's a lot of fun, that's why I do this," said sixth-grader Dylan Parsons. "But I'm also looking forward to my solo experience next year."