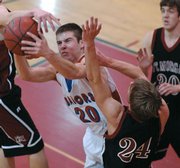 Steamboat Springs — The first-half execution was porous, the shooting was downright bad and the defense left a lot to be desired.
But as has been the case all year, the Steamboat Springs High School boys basketball team found a way to get it done.
This time it came in an eight-minute stretch from the middle of the third quarter to the middle of the fourth quarter Friday night in the second round of the Class 4A playoffs.
Steamboat used a 19-5 run to atone for an ugly first half, break open the game against Fort Morgan and run into the Sweet 16 with a 54-36 win.
"I'm proud of our kids for what kind of first half we had," Steamboat coach Kelly Meek said. "They're not used to that. They haven't had that in a long time. I'm proud of how they handled my criticism."
Initially, Steamboat looked like a team that hadn't played a competitive game in more than two weeks.
The Sailors started out 0-of-9 from the field, shot 6-of-26 in the first half and connected on 1-of-14 3-point attempts.
Steamboat trailed for most of the first half, tying the score at 13 and 15 before Fort Morgan went into the break up, 17-15.
"We didn't execute at all," Steamboat's Aaron Calkins said. "Our offense was horrible. We didn't defend ball screens. We knew we had to come out and play like we could."
So that's what Steamboat did.
In the second half, the Sailors quit settling for jumpers and started to execute.
With 5 minutes, 49 seconds remaining in the third quarter and the game tied at 19, Steamboat hit their hot streak.
The Sailors turned seven Mustangs turnovers into points, extending their lead to 38-24 with 5:53 remaining in the fourth quarter.
"I got to hand it to Steamboat," Fort Morgan coach Jeff Montel said. "I told our kids, 'bottom line, this is the most fundamental team that we're ever going to see.' They did everything right in the second half."
Fort Morgan battled back, cutting the lead to 42-32, before Steamboat finished the game on a 12-4 run.
"They'll take tough coaching," Meek said of his team. "They don't have to be patty-caked. That's the strength of those kids."
Michael Vandahl led the Sailors with 16 points, eight rebounds and four assists. Colby Kostur chipped in 12 points and 10 rebounds while Calkins - playing his first game in almost a month because of an ankle injury - scored 10 points.
Keef Montel led the Mustangs with 13 points, while Andrew Rebol had nine.
Steamboat now prepares to travel to Widefield High School in Colorado Springs for a Friday contest with sixth-seeded Pueblo West, who upset third-seeded Sierra, 55-52, on Friday night. Top-seeded Widefield easily beat Montrose and will play No. 4 Thomas Jefferson.
A game time for Friday's contest hasn't been set.
"We'll see speed, a press and athleticism," Calkins said of Steamboat's next opponent. "We have to win the ground game because they're going to be jumping out of the gym."