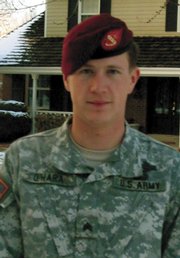 Steamboat Springs — Bill Montag remembers his late stepson, Eric O'Hara, as "a true American hero."
In his two tours of duty with the 82nd Airborne Division, O'Hara led 80 missions in Iraq and Afghanistan and was cited three times for bravery, Montag said.
"He would go under fire to pull his men out of harm's way," Montag said.
O'Hara negotiated with villagers to help bring peace, Montag said. His second tour of duty included daily patrols through the city of Tikrit.
"The greatest thing about Eric was that he came out of Iraq with incredibly deep faith," Montag said. "We know where he is now."
O'Hara, 24, died Thursday in Steamboat Springs after falling six stories off the roof of the Steamboat Grand Resort Hotel in a snow removal accident.
O'Hara had been discharged from the U.S. Army just a few weeks ago, was trying to move on with his life and had recently enrolled in college, close family friend Larry Lamb said.
Lamb fondly remembered his long talks with O'Hara, sharing Army stories. He remembered O'Hara as "tough and ambitious," and called his service in the Middle East courageous.
O'Hara had been living in Centennial since his discharge, but was in Steamboat Springs Thursday to help out with his brother-in-law's business, which is contracted to clear snow off roofs at the Grand. Just before 4 p.m., according to Routt County Coroner Rob Ryg, O'Hara and another worker were standing on a piece of ice that broke loose. O'Hara slid down the sloped roof and fell over the edge holding a safety rope, but was knocked off the rope by falling snow, Ryg said.
Montag remembered O'Hara as a passionate skier and talented athlete. O'Hara lettered in skiing at Steamboat Springs High School, where he graduated in 2002.
O'Hara's family has long been involved in local bull-riding events, and while in high school, the fearless teenager coined "the Eric dismount" - jumping straight off the front of the bull, Montag said.
"And he'd get run over every time," Montag said.
After his discharge, O'Hara enrolled in classes at Metropolitan State College of Denver using funds from the G.I. Bill. After a bit of a rebellious youth, Montag said, O'Hara dedicated himself to a better future and had dreams of being a stockbroker.
"He was so proud because he got an 84 on his big bio test on Wednesday," Montag said.
O'Hara was incredibly close to his four sisters and was a caring uncle to their children, Montag said.
"Eric was a positive person - he just lit up the room," Montag said. "The community has really lost something."
"He will be sorely missed," Lamb said. "He was a lot to a lot of people."
Montag said services will be held Wednesday in Steamboat. O'Hara will be buried Thursday at Fort Logan National Cemetery in Denver, Montag said.
Arrangements still are being finalized.