Letters from people who Kelly Meek
The only thing meek about you is your name. Because you are a person with strong beliefs, your presence is powerful, but never cold. You have set high standards for yourself, your players and your coaches and did not compromise them. Through this single-minded vision of excellence, taught with a sense of humor, you consistently got your players to commit to something bigger than themselves. You asked more of your players than has ever been asked of them before but in time they accepted this prodding and began to ask more of themselves. You have taught, and your players have learned, that success is not an accident; but, that it is a product of effort, commitment and discipline. It's been an honor to work with you the past six seasons.
- Assistant coach Jim Bronner
When someone asked me how coach Kelly Meek affected my life, my memory banks were rattled. I tried to think of one moment in time or one motivational speech that made a major impact on my life. As I pondered on this question for the next few days I realized that it wasn't just one moment in time or just one speech; it was every minute of every day. See, coach Meek believed in repetition. "It takes 21 days to form a habit," he used to say. And for every minute I was in his presence for my four years at SSHS, he kept with the repetition, forming my habits. Tools he shared with all of his players and students every day. Tools that if you not only heard what he had to say, but would listen, became habits in your life. So when asked how Coach Meek affected my life? My answer is, just as great as he affected all who listened.
- Tyson Johnston, player from 1995-98
Dear Dad, Papa, Stud,
Any man who can survive raising three daughters has to be pretty amazing. As little girls, we looked up to you with admiring eyes. You always seemed larger than life, and we loved living in the gym with you. Dressed in our little cheerleading uniforms, Mom put us in the car and drove all across the state to watch Sailors basketball. When we were old enough to play sports, you were our personal coach, never pushing too hard or pressuring us to play. Dad, you always taught us girls there was never any dream too big, all we had to do was believe in ourselves and never give up. Your loyalty to family and passion for life has shown us what life is all about. We could not be more proud of you or more honored to say that you are our dad, papa and, of course, STUD!
We love you, your girls!
- Katie, Aimee and Megan
We started out together as young coaches, and now we are older coaches still working at the game. We have grown together, we are colleagues with similar goals, aspirations, expectations of ourselves and the players we coach. I couldn't be happier for him on this special occasion.
I love watching him coach, I love talking with him, because I learn so much. Kelly Meek does things the right way, for the right reasons. His players respond to him, and you can see that they respect and love him. Steamboat Springs is very fortunate to have him coach for so many years.
- Moffat County girls coach Craig Mortensen
You motivated and pushed me to levels that I probably shouldn't have ever reached. A slow, rigid, immature ninth-grader, you somehow molded into a descent basketball player was nothing short of miraculous. I was not unique to this process, I watched as you turned many kids into very accomplished players and taught them many things about being solid people as well. As a high school coach, I find myself searching for the characteristic you have that made you such a positive influence on so many, and I feel humbled and fortunate to have had such a teacher and coach in my life.
Coach, you have meant so much to me during my life, I cannot ever repay the gifts you have given me. So all I can do is thank you for all you did and tell you that I love you. Best wishes and good luck with your next steps.
Your friend,
- Jon Baskin, player 1983-86
Kelly Meek by the numbers
544 - basketball wins at Steamboat
44 - league, district or regional championships
102 - all-conference players
41 - all-state players
15 - players selected to the Colorado Coaches Association's all-state summer game
3 - McDonald's All-Americans
4 - track titles (1975, 1979-81)
83 - number of league coaches he's coached against
13 - track and field records teams he coached still hold at the high school
2 - times he ruptured his Achilles tendon
0 - ligaments in his left knee
Photo Gallery
Leaving the helm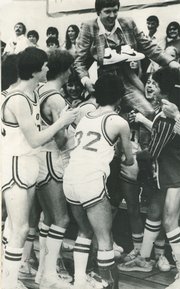 Kelly Meek has walked the sidelines and hallways at Steamboat Springs High School for 36 years. Two weeks ago, he announced his retirement to spend more time with his ailing father, four grandchildren, three daughters and wife, but not before leaving a lasting legacy as a disciplinarian, great coach and incredibly influential mentor for the youths of Steamboat Springs.
Steamboat Springs — It's the day before the Moffat County game and Kelly Meek is holding court in the gym named for him.
He's wearing wind pants and a T-shirt on his long, slender body that seemingly hasn't changed in 30 years.
All the accomplishments of those years - the 544 wins, the 44 league, district and regional titles - aren't really important right now.
This game's big. It's Moffat County. It's a rivalry as thick as cold honey.
To Meek, it's the most important game of the season so far.
The Bulldogs, after losing 11 of their first 12 games, are on a hot streak and battling for their playoff lives. They feature the league's best post player in 6-foot-5-inch Chayton Owens. The Sailors are without second-leading scorer Aaron Calkins, who injured his ankle the week before.
But this is a Meek team. The Sailors don't start a player taller than 6-foot-2 and look more like a bunch of pickup players than a team that's 17-2 and 11-0 in the league.
They're rugged. They play defense and can score more ways than most coaches can imagine. It's the type of team Meek loves.
As his players move into the old boys locker room, the joking from a game of knockout stops.
It's time for a classic Meek scouting report.
The good from the great
Meek has been the model of consistency in basketball for 34 years at Steamboat Springs High School.
He's the third-winningest boys high school coach in Colorado history. He's won the second-most games at any one school in Colorado history. His teams have been ranked in the top 10 in 31 of those 34 years. As a track coach, Meek won state titles in 1975, 1979, 1980 and 1981.
"The more I've grown up with him I realized the X's and O's are almost a given," said Denver Christian coach Dick Katte, Colorado's all-time high school wins leader. "But it's the rapport with the young men that's made him a winner. Those are the kind of things that separate the good coaches from the great coaches."
Take Jay Poulter, who never really had an interest in basketball until Meek took an interest in him.
"He changed my life," said Poulter, who played for Meek in the 1970s. "He allowed me to believe in myself like few others have."
Meek would visit Poulter's house and work on his game. Poulter remembers sitting on the bench as a sophomore and hoping the varsity wouldn't get up by too many points so he didn't have to play.
As a senior, Poulter led the state in scoring.
"God-honest truth. I was afraid to look stupid," the 6-foot-8 Poulter said. "The thought of playing high school basketball was terrifying to me. Looking back, he had an impact on me not through just basketball, but getting the most out of me as a human being."
But that's Meek - the same guy who after buying his house in 1978, took a look around town and realized there weren't any outdoor courts. Meek and his wife, Karen, took their entire savings of about $3,000 and made a court in their backyard. It served as a place for practices, pick-up games and, most importantly, a place for children to play basketball anytime they wanted.
"Steamboat Springs has no YMCA or Boys Club," said Chris Adams, who coached with Meek from 2001 to 2006. "He is pretty much the closest thing to a Boys Club or YMCA kids had. The gym always was open. Kelly was there as a mentor and supervisor of the gym. He's been that recreation center for kids."
Preparation
In the bunker of the locker room, players gather in three rows in front of a dry-erase board. The board has every Moffat County player that will play in tomorrow's game written on the left half, with the right half featuring a half-court set.
The report is uncanny.
The board has more black marker on it than open white space. Every player's game is dissected. Some use only their right hand, some use only their left and some can or can't shoot.
Then Meek comes to Owens. It will be 6-foot-1 Colby Kostur's job to guard him tomorrow night. Kostur is a Meek player. He's not as athletic, quick or big as anyone he'll go up against. But Kostur would eat sandpaper and drink gasoline if it meant winning.
Meek gets down in a defensive stance, stares at Kostur and emphasizes the importance of his job.
"Damn it Colby, you got to win the ground game," Meek says.
Meek then gives the team its defensive game plan for the night. Any time the ball is dumped into Owens, Steamboat will pinch him with a double team.
"He has the ability to go off on us," Meek says, "but he won't."
Game planning
Meek's knowledge of the game has become legendary in the Colorado ranks. He has the ability to scout a team for a few minutes and know exactly what they're doing.
"We'd do a walk-through, and he'd see this pick or that pick happen," said Tyson Johnston, who played for Steamboat from 1995 to 1998. "We were always so prepared; sometimes it was scary. We knew the other team's plays before they did."
Maybe nobody knows what Meek would bring better than former Roaring Fork coach Roger Walters.
Walters played and coached at Rifle before spending the past five years at Roaring Fork.
When he took over at each school, he said he wanted to model his program after Steamboat.
"It's really fun to visit with Kelly before and after the game," said Walters, who went 115-16 with Roaring Fork. "But it was no fun playing against him. He had a knack for beating you like a drum. He's such a good coach. He's the best in the state, as far as I'm concerned."
Adams said it's not hard to see why Meek was a nightmare for opposing coaches. Adams helped coach with Kelvin Sampson at Washington State University and said Sampson had 20 or 25 set offensive plays. In Steamboat, Meek had 65.
"Kelly has an offensive system more diverse than a lot of Division I teams," Adams said. "It's comparable to some high-end D-I programs. It's absolutely unbelievable at a high school level."
An athlete himself
Before Meek was a coach, he was a three-sport athlete in Alamosa. He spurned an offer to play basketball for Nebraska to instead follow his high school track coach, Dr. Joe Vigil, to Adams State.
Injuries couldn't keep Meek from performing. He shattered his arm in basketball and ruptured his Achilles tendon in track during his freshman year. His sophomore year, he tried to play football at the University of Colorado and had moved up to second on the depth chart at free safety before he ruptured his Achilles tendon a second time.
"They told me I'd walk again," Meek said, "but I'd never run again."
Meek returned to Adams State and led the Rocky Mountain Athletic Conference in receiving his senior season.
"He's one of the best athletes I've ever had," said Vigil, who is regarded as one of the best track coaches in the world and will be the U.S. team's endurance coach at the Beijing Olympics. "I've had a bunch of them, and he was just as good as they were."
Meek student-taught in 1970 at Alamosa High School, where he helped out Duane Lewis with the basketball team. Lewis said even then, Meek would come in early and leave late.
"You could just tell with the way he worked with kids he'd be a good coach," Lewis said.
Meek played two years in the Continental Football League for a farm team of the Green Bay Packers. With his left knee in shreds, Meek decided it was time to start teaching. In 1972, he was selling knives and substitute teaching at Greeley West.
"He said, 'I have to find a job," Karen said. "This job came open, and we came up here."
The result
The game plan was extensive, but the execution was better. In front of a standing-room-only gym on a Friday night in February, Steamboat jumped out to a 21-10 lead on Moffat County in the first quarter, thanks to 18 points from point guard Michael Vandahl.
Owens was held to 12 points in the game and proved to be ineffective when he caught the ball in the post - thanks mostly to the defensive scheme drawn up on the dry-erase board just a day earlier.
As the game concluded, Meek shared hugs with players he'd coached from every decade he'd been at Steamboat - a constant at almost every home game.
He may have saved the biggest one for Vandahl, who scored a career-high 37 points that night.
"I know I wouldn't be close to the basketball player or person I am without him," Vandahl would say. "Him and my dad are the most influential guys that have helped me with basketball and life."
Onlookers might have thought the hug was reminiscent of a father hugging a son. In retrospect it was, in a way. Meek has three daughters and thousands of sons that played for him.
So maybe it was only fitting that Meek, who treated his players as an extension of his close-knit family, decided it was time to retire because of family.
Family man, great man
It hasn't mattered what Meek has done - family has always been there.
When Meek was an athlete, he had support from his parents. When he was a coach, he had support from Karen and the couple's three daughters.
"My dad was always there supporting me and the other kids," Meek said. "He never really critiqued me other than whether I was working hard or not. : He impacted other kids as much as me. My mom and dad were always there. That's a powerful thing."
But with his father's health declining in Grand Junction, Meek said he felt bad when he wasn't with him and bad when he wasn't with his team. And with four grandchildren between 6 months and 3 years old, he couldn't give his full effort to coaching.
"Kelly can never do anything half way," Vigil said. "He's always done the best he could. In any of the sports he participated in or anything he's done."
Meek departs as a never unprepared, rarely blemished coach that harvested relationships and was a student of life as much as basketball. It's hard to imagine that the relationships he forged - with players, coaches and anyone associated with Steamboat sports during the past four decades - will ever fade away.
"He developed you as a person. He wanted you to be a great person when you left," said Mike Streeter, a 1975 graduate. "I'm sure there's 1,000 people that would say that."
There are 36 years of proof.
- To reach Luke Graham, call 871-4229 or e-mail lgraham@steamboatpilot.com