For more
For more information about Kandu, the award-winning therapy mutt, go to http://kandu.us. The Web site includes a background story and pictures, as well as a selection of special Kandu apparel - emblazed with the slogan, "O YES U KANDU" - that includes T-shirts, jackets, buttons and thongs.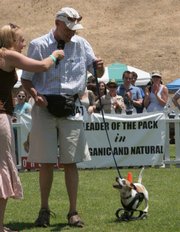 Steamboat Springs — The annual Nuts for Mutts dog show in Woodland Hills, Calif., isn't quite on the same level as The Westminster Kennel Club.
Luckily for Oak Creek pet Kandu, Nuts for Mutts isn't trying to be elite. On June 1, the two-legged Routt County mixed breed took home "Best in Show" at a contest that boasts categories such as "Mystery Mutt," "Most Vocal" and "Fastest Eater."
"It was great. We had seen a little piece last year on Animal Planet that sort of featured it, and it just looked like fun," said Ken Rogers, who adopted Kandu in fall 2006. "And it is, because it's just for mutts."
Kandu, who also won for "Best Kisser" and "Best Physically Challenged," was born without front legs. Rogers applied to adopt the dog - who was set to be euthanized before being saved by the Evergreen Animal Protective League - after seeing a story on Denver's CBS4 news.
"I got to thinking. At the time, we had a dog who was in the Heeling Friends program at the hospital, and we thought this would be kind of cool, that Kandu might make a good therapy dog," Rogers said.
Once they got the dog, Rogers and his wife, Melissa Uchitelle-Rogers, started working on devices to help Kandu move around.
"He actually has a little monoski for the winter time. Living in Steamboat, you've got to have something to ski," Rogers said. "It's like a whole different dog. He had such great spirit to begin with, but he just loves being able to roll and go fast and be with other dogs."
Through the Heeling Friends program at Yampa Valley Medical Center, Kandu and Rogers team up to visit with patients. Kandu gets animated when he sees the door of the hospital, but he calms right down when he's out of his wheels and snuggled up with a patient, Rogers said.
"He really seems to understand. Many dogs do, they seem to sense when somebody's sick. They just get mellow and snuggle up to the patient," he said. "It's really neat to watch."
Rogers said he and Kandu probably will go back to the Nuts for Mutts show next year, but they don't plan to compete.
"We were just excited to be there and would love to go back," he said. "And Kandu had a great time. It was just a great place for folks to come and show off their mutts."