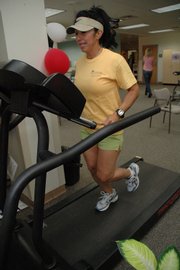 On the 'Net
There's no shortage of help on the Internet. Here are two sites that may aid you in your quest to make 26.2 miles.
The site offers two separate schedules. One is a 19-week program meant to help you get in shape enough to where the massive marathon distances don't phase you. The other is an 18-week schedule that takes you right up to the marathon week, including a full dress rehearsal the week before and six days of rest leading into the big event.
Team in Training is a program, entering it's 20th year, that helps train people for marathons. It has groups across the country, including plenty on Colorado's Front Range. It also offers online coaching and help for those in areas without a group. The program was started to help raise money for leukemia research.
Steamboat Springs — Maybe you'll watch today, maybe you won't. Maybe the streets closed for today's Steamboat Marathon are just a nuisance and the crowds that run into town are nothing more than people to wait behind in the grocery store line.
What if it could be you, though? What if you were one of the hundreds that will come streaming down Routt County Road 129 from Hahn's Peak Village - one of the people happily striding toward the Routt County Courthouse lawn finish line with the wide smile of success that is the kryptonite to couch potatoes everywhere?
What if it could be you?
It could and it can. A marathon, traditionally 26.2 miles, might as well be 2,602 miles for many, but training for one doesn't take a lifetime. In fact, it just takes a couple months, if you do it right.
Getting started
Let's save the age-old "a long journey begins with the first step" mantra. It doesn't really apply; just what that first step should be is debatable.
The one thing it shouldn't be is a step down the trail. Several decisions need to be made before you start working out.
So you want to run a marathon, but you need to decide which marathon. You have plenty of time to get in shape for next year's Steamboat Marathon, always a late-spring affair. If you really get going, you actually have time to make one of the many fall marathons around the country.
"The first thing is to pick a marathon," said Jennifer Kerr, a physical therapist at Yampa Valley Medical Center. "Six months out for a never-ever would be reasonable. You could do it in less, but that's a good, safe time frame."
Also important in getting started is finding the right equipment. It doesn't take much - a pair of shoes is all that's actually necessary. Finding the right shoe doesn't need to be expensive or difficult either.
"That's the beauty of running," Greg Long said. "You need very little."
Long helps coach the Steamboat Springs High School long distance runners and is an avid runner himself. While he'll miss this year's Steamboat Marathon with a hamstring injury, he has run others in the past and has his eye on several later this summer.
"You need a decent pair of running shoes that works for you," he said. "There's no set shoe you can recommend for everyone because everyone needs something a little different."
Kerr said the Yampa Valley Medical Center also can help people strengthen their weaknesses when it comes to running, which often is preferable even to simply buying a shoe to correct it.
It's a part of a service the center offers to help runners correct problems with their running style and to allow them to run with less pain. It can help head off injuries.
"We do a very formal gait analysis - video tape them running, then put that through some slow motion analysis," Kerr said. "It's helpful to do that before you're injured, but we tend to see those when people already are."
Hitting the road
After you have your equipment, it's time to start training - not too fast, though. Overtraining is a common problem and often leads to injuries. An injury at the wrong time can put your marathon completely out of reach.
The key is an even increase rather than trying to run 26 miles on the first day.
"The No. 1 rule, I don't care what distance, is about not increasing more than 10 percent in a given week," Long said. "I even try to make that true of a three-week period."
Long suggested breaking training into three-week blocks. The first week will help you get your feet under you at the new workload. You get used to it in the second week, and you're ready to stretch yourself by the third week.
One online schedule, at www.marathontraining.com, suggested alternating running between three and four miles four days a week, with three days of rest sprinkled in between.
Experts suggest slowly increasing that total until, eventually, you have a long day - as much as eight or 10 miles - and plenty of shorter days of four-, five- and six-mile runs.
It doesn't have to become an all-consuming effort, Long explained.
"One of the newest things out there is three-day-a-week training programs," he said. "What's different is, the new program is about quality, not quantity. The three-day concept now says 'Hey, you have three important training workouts you have to get in. Make sure we got those three done.' If you can't run any other days, you'll still progress and get better."
Stay on course
Any number of things can derail someone. The most likely - other than the growing lure of the couch - is injury.
That's where Kerr and the Sports Medicine division at the medical center come in.
When you start piling up the mileage - four-mile long days turning into 10 and even 20-mile days - small injury problems become big.
"People forget running puts the stress of seven times your body weight on each step," Kerr said. "If you have some imbalances and you start to build mileage, you'll flush that out with all the repetitive stress."
Nothing is more important than developing a good form, following a stretching routine and getting in plenty of quality rest.
"We do the full screen in terms of testing muscle lengths - are your hamstrings tight compared to the norms? We watch them walk and watch them run (with the video camera). It's such a nice technology," Kerr said. "What people leave with is a set of exercises tailored for them."
If you survive the early mornings and cold evenings, and all the potential injuries and pitfalls, it could be you next spring. It could be you gearing up for the dash from North Routt to downtown Steamboat with that smile of success.