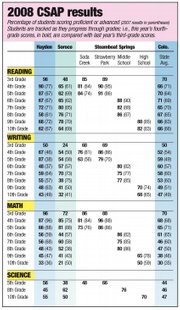 Steamboat Springs — Steamboat Springs High School was among nine schools recognized for consistent increases in standardized reading test scores during a ceremony in Denver on Tuesday.
Officials at the Colorado Department of Education presented interim Principal Kevin Taulman with an award in recognition of the high school's performance on the Colorado Student Assessment Program tests.
The school's overall CSAP reading scores have improved for three years in a row.
"These schools are lighthouses for how others may accomplish their journey," said Assistant Commissioner Jo O'Brien during the awards ceremony.
"I give full credit to the staff," Taulman said of the school's success. "We have a great student body and great parents. We have a community that values education."
Eighty-eight percent of ninth-grade students at the school scored proficient or better in the reading test, along with 82 percent of 10th-graders. In 2007, 85 percent of Steamboat eighth-graders scored advanced or proficient, while 83 percent of ninth-graders scored in those categories.
All Steamboat Springs School District schools scored well in the 2008 CSAP, outperforming state averages for proficient and advanced students in every category.
Shalee Cunningham, the new district superintendent, said it was no surprise that students performed well on the tests.
"We have many years of the CSAP data, and we've always done very well," she said. "Our kids test well, and our kids our very bright. Our teachers have obviously done a fabulous job with the state standards."
The state Department of Education also released data showing the improvements the schools have made in the past year, called a growth model, and while Steamboat fared well on this standard of measure, as well, the scores in specific grades were not up to expectations, Cunningham said.
"We're taking a deeper look at how our freshmen and sophomores are doing and the fact that they haven't had the amount of growth we would expect," she said. The two grades scored well in reading but had a slight decrease in the number of proficient and advanced students tracked year to year in math.
Taulman also said he would like to use the data to help specific groups.
"We need to look at some targeted populations, like our English Language Learners. We can help them achieve more and push them," he said. "We should also look at our gifted and talented students and focus on every single person making growth."
Taulman also said he wanted to focus on the disparity between boys and girls.
A detailed breakdown of the scores released by District Curriculum and Instruction Director JoAnne Hilton-Gabeler, who also attended the awards ceremony in Denver, shows girls at the high school outperforming boys in every tested area.
At the elementary level, both Steamboat public schools were above state averages. Strawberry Park Elementary School showed the biggest increase in test scores in the district, according to a growth model released by the Department of Education.
According to that data, which refers to 2007 scores, Strawberry Park is in the 65th median percentile of reading score growth when compared to other schools in the state - meaning the school showed greater improvement than almost two-thirds of schools in Colorado.
This year at Strawberry Park, an average of 90 percent of third-, fourth- and fifth-grade students scored proficient or advanced on reading tests.
The CSAP tests began in 1997 and are used to measure student proficiency on statewide standards.
This year, students in grades three to 10 were tested in reading, writing and math, while a new science test was administered to grades five, eight and 10. Because the test is based on new standards, the results cannot be compared to previous years.
Statewide, 1.6 million tests were administered in 2008, comprising 98.9 percent of all students in those grades.