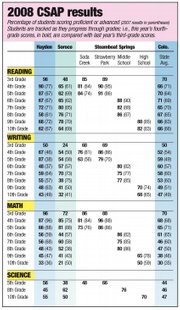 Steamboat Springs — Hayden students earned a range of results in this year's Colorado Student Assessment Program, including strong scores in elementary school math but scores below state averages in high school writing.
Hayden School District principals agree the annual, standardized CSAP tests can be a helpful tool in demonstrating school achievement, but high school principal Troy Zabel said that in a small district, one or two students can drastically change the averages for the whole grade. Zabel said he expected the overall scores to be higher, though, and was disappointed by the results.
"If you look at our ACT scores, our kids score pretty strong above the state average," he said Tuesday, after scores were released by the Colorado Department of Education. "I'm not real sure why (we had the low scores) yet. Until I get in and look at individual test scores it's hard for me to make a determination."
Rhonda Sweetser, Hayden Valley Elementary School principal, was more pleased with her building's results, which were all at or above state averages.
"We had a huge area of growth from last year to this year in our writing scores," she said.
Last year's fourth-grade class had only 38 percent of the students at proficient or better, but this year, 87 percent of fifth-graders scored in the top CSAP categories. That was the best score for a grade at any school in Routt County on the writing test, and it handily beat the state average of 59 percent of students scoring proficient or better.
"You always want to do better, but you keep doing what you're doing, that's working for those kids," Sweetser said.
Hayden Middle School Principal Regina Zabel said the scores at her building were about what she predicted, but "there are some places that obviously I think we need to work on for improvement."
One of those areas is the sixth-grade class, which scored below the state average for number of students at proficient or better on three of the four CSAP tests.
That class had 48 percent proficient or better in writing, 67 percent in reading and 56 percent in math, trailing state averages between four and 12 points. In 2007, as fifth-graders, 37 percent of the class scored proficient or better in writing, 67 percent in reading and 59 percent in math.
Regina Zabel said sixth grade has historically been a low point in scores, as students transition to the middle school.
All three Hayden principals agreed the CSAP tests are a good indicator of school achievements and progress. The results often are used to create better programs the next year.
Regina Zabel said the middle school has used the information to create intervention programs to help students who may be struggling. One such program is geared toward standardized tests and teaching students how to write to prompts on demand.
- To reach Zach Fridell, call 871-4208
or e-mail zfridell@steamboatpilot.com