For more
For more Olympic stories, read 'Weiss made waves' or 'Steamboat rower misses medal, finds glory of Olympics'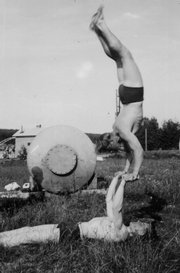 Steamboat Springs — In 1948, Sven Wiik traveled to London for his first taste of the Olympic Games.
He was 27 at the time, and is quick to point out that he wasn't competing for gold, silver or bronze. However, he still represented Sweden as part of a demonstration team promoting the sport of gymnastics at the first Olympic Games since the end of World War II.
"I wasn't an Olympian," he said. "Our team was part of a show that emphasized the good aspects of our sport."
Track, skiing and gymnastics were all part of the 87-year-old's life growing up in the small mountain town of SollefteÕ, Sweden. Like most of the young people in SollefteÕ, Wiik started in the gymnastics program at a young age, and by the time he was in his late teens had developed into one of his town's promising athletes. He also was an accomplished pole vaulter and excelled in skiing.
As a part of the gymnastics club, he traveled across Sweden and Europe for local and regional competitions. When members of SollefteÕ's gymnastics club got invited to attend the 1948 Olympic Games for a demonstration, Wiik, his brother and several teammates were selected to represent their town and country.
"I tried to make the Olympic track and field team, but I failed. My friends told me not to give up. 'Try again in gymnastics,' they said, 'but make sure you get to the Olympics,'" he said.
Wiik did make it to the Olympics - not only as a gymnast, but also as a ski coach in 1960 and 1988. Today, the memories of those Olympic experiences are protected in a photo album, one of several Wiik keeps in his home to chronicle his family's history in Sweden and the United States.
"It's been so long ago," Wiik said. "Of course I was very fortunate to be involved, and I will remember it my whole life."
He performed in a number of events including the floor exercise, vault, still rings, high bar, parallel bars and pommel horse. But it wasn't the demonstration that impressed the young Swedish gymnasts the most - it was the experience of being a part of the Olympics.
"We were the only team that got to stay there the entire time," Wiik said. "It was terrific fun."
Fifty years later, Wiik recalls watching the thrilling match in which Sweden defeated Yugoslavia for the gold medal in soccer, in addition to enjoying several of the track and field events.
The next year, he came to the United States and started coaching for Western State College of Colorado in Gunnison. As a coach with the U.S. Ski Team, Wiik coached U.S. skiers at the 1958 World Championships in Lahti, Finland; the 1960 Olympic Games in Squaw Valley, Calif.; and the International-University Competition in Italy in 1966. Wiik was inducted into the Colorado Ski Hall of Fame in 1979 and into the National Ski Hall of Fame in 1981.