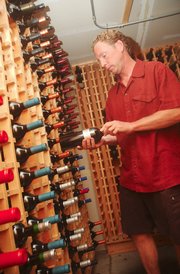 Tasting strategies
Tips for wine festival newcomers, provided by Gail Wiltshire of TeamSage Productions (the company producing the festival):
- Make a game plan. Look at the tasting guide and find your favorites or see what looks interesting. Accept that you can't possibly try everything. It's not a sprint - it's a marathon. You might want to decide to divide and conquer within your group of friends.
- Eat a big meal beforehand. You'll stay sober longer. You might want to follow your festival experience with a large meal afterward.
- Consider a designated driver, cab service or hotel room. Make sure you have a safe ride home. They are just tastings, but they do add up.
- Dress comfortably. There is no need for high heels. Stilettos might look as good as a first-growth Bordeaux but they will feel like a rotgut moonshine after a few hours. You will be walking a lot, standing even more and jostling in and out of a lot of people.
- On the topic of clothes, wear dark colors. Even if you manage to avoid spilling red wine on yourself, someone else might careen into you.
- Spit. What? Yes, spit. It's actually an accepted practice. It is a tasting, so if you want to be able to taste more, you'll have to spit more.
- Hydrate, and wine doesn't count. Water will be available at all of the events.
- Don't try to take detailed tasting notes. Just note the wines you like and would like to have again.
If you go
What: Fifth annual Wine Festival at Steamboat
When: July 31 through Aug. 3
Where: Seminars are at Steamboat Grand Resort Hotel; tastings and wine dinners are at Torian Plum Plaza and various downtown restaurants and venues
Cost: Individual event prices range from $25 for a sustainable wines seminar to $125 for Thursday's Wine on the Mountain kickoff celebration; ticket packages start at $225 for the three main events (Thursday's Wine on the Mountain, Friday's Stroll of Steamboat and Saturday's Toast of Steamboat Grand Tasting) and go up to $800 for an all-access pass
Call: Christa Graff at (435) 640-7921
Online: For a complete listing of Steamboat Wine Festival seminars, tastings and dinners, go to www.steamboatwine...
Steamboat Springs — At a high-end wine tasting, you're likely to see a connoisseur pick up a glass, sniff it, swirl it, sip, spit and repeat.
Stephen Kautz, president of the California-based Ironstone Vineyards, is not convinced all that posing is necessary.
"It's not telling you a whole lot," Kautz said of swirling a glass of wine to test its "legs," or alcohol content and viscosity.
"I mean it looks good and you can see the legs. But you know what? I can take wines that are big, heavy and rich that have wonderful legs on them and no one wants to drink them," he said. "I blow off the swirling thing. I go with if it smells good. That's my first step."
Kautz's Ironstone offerings will be among the 800 or so available for tasting during the fifth annual Wine Festival at Steamboat. The four-day event starts with a Wine on the Mountain kickoff celebration Thursday and finishes up the next Sunday, with a busy schedule of tastings, seminars, winemakers' dinners and large-scale events in between.
Along with leading a seminar about California's take on Old World wines, Kautz will be the guest of honor at a Saturday night winemaker's dinner at L'Apogee. Mike Lang, the restaurant's sommelier, said the winemakers' dinners are a chance to ask questions about food and wine pairings.
"It's fun, and it's our passion. It's the passion to be able to put together a list for a culinary experience," Lang said. L'Apogee keeps its extensive cellar stocked with 800 to 850 different selections and 5,000 to 6,000 bottles throughout the year - selections Lang bases on price, food compatibility and the occasional irresistible find. The restaurant also will participate in one of the festival's signature events, a Friday afternoon food and wine tasting called the Stroll of Steamboat.
"As far as a culinary experience in Steamboat Springs, the wine festival should be a representation of what Steamboat can offer as far as gastronomical delights go," Lang said.
In vino veritas
The appeal of the stroll and other festival events is their ability to introduce new tastes to veteran wine drinkers, as well as acclimate fledging wine hobbyists to what's possible when grapes get fermented.
"Life's too short to drink wine you don't enjoy. And for people who are attending this show, it's a perfect opportunity to try all kinds of new things," Kautz said. "If you're a chardonnay drinker, make it a point not to drink chardonnays for the beginning of the tastings. You might discover something you really like."
The festival, produced by Denver-based TeamSage Productions and sponsored by Steamboat-based real estate property The Porches, has grown into its fifth year as it broadens its length and its reach, said Mainstreet Steamboat Springs representative Tracy Barnett.
"It's really a fun deal. The first year that I was involved, it poured buckets (of rain) during the whole thing, and we still poured more than 500 glasses (of wine)," Barnett said. The festival also brings a different demographic of summer tourist to the town, she said.
"Mostly, I'm just pleased that it happens, because it brings people downtown and it brings down that demographic," Barnett said. "We're trying to look at diversifying our economy and who we get here in the summer. If anything should happen to Triple Crown, we're starting to diversify what we're doing."
As he stocked bottles of Kautz's Ironstone wines in the L'Apogee cellar, Lang echoed the winemaker's advice on trying new varieties of wine during the festival.
"You can always drink the wines that you like. (At the festival) you're going to be able to taste white wines from Spain, wines from islands off of Italy, or wines from towns in Oregon that you've never even heard of," Lang said, noting that his sommelier title translates loosely to "cork dork" or "cellar rat."
"They're going to learn a whole heck of a lot," he said of newcomers to the festival and their wine appreciation. "You're going to experience wines that are not necessarily what you would see every day."
- To reach Margaret Hair, call 871-4204 or e-mail mhair@steamboatpilot.com