For more
For more Olympic stories, read 'Weiss made waves' or 'Wiik: Games were 'terrific fun''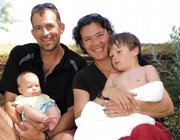 Steamboat Springs — It's been said that the worst place you can finish in an Olympic event is fourth. That's an experience Steamboat Springs Olympian Anne Kakela knows firsthand.
In 1996, she was part of the highly favored U.S. women's rowing team that was expected to take the gold medal at the Summer Olympic Games in Atlanta. The team advanced to the finals, but the week ended in disappointment for the Americans, who finished fourth behind the gold-medal-winning Romania, silver medalist Canada and third-place Belarus.
"We didn't race well the whole week," Kakela recalled recently. "I'm not sure what went wrong. We could chalk it up to nerves, or some of the other things that were going on in the boat that I wasn't aware of until years later. But we never hit our groove and that hurt our confidence."
The American team had dominated international competition leading up to the Olympic Games and expected to get a tough race out of the normally strong team from Romania, but there was no question the squad expected to medal. Kakela said getting beat by the Canadians and Belarus stung for years after the race.
"We had beaten both of those teams in the past. The Canadians were notorious for performing well at the Olympics, but the team from Belarus came out of nowhere, and I think that kind of stuck with us."
Looking back on the games, Kakela said she prefers to focus on the positives of her Olympic appearance. She still remembers the joy she felt as she walked into the 85,000-seat Centennial Olympic Stadium - later converted into Turner Field - for the opening ceremonies. She also said she enjoyed watching several of the other events, including Michael Johnson's world-record performance in the 200-meter dash.
"When I think about the racing, it's still frustrating," Kakela said. "But the opening ceremonies were absolutely incredible. I'll never forget the sound of the crowd - it was like a dream come true."
One of Kakela's best memories of that time came the night after the Olympics' closing ceremonies, as she walked home from a restaurant with her future husband, fellow Olympic rower Fred Honebein, in Chattanooga, Tenn.
In addition to a life partner, the Olympics gave Kakela lifelong lessons.
"For me rowing was about a lot more than just winning a medal," she said. "I really enjoyed the lifestyle. I learned how to push my limits and how to break down barriers. I took so many lessons away from rowing."
She started rowing when she was a freshman at Dartmouth College in New Hampshire, as a way to get in shape for skiing. She discovered her talent, spent the rest of her college career rowing and after graduation in 1992, pursued the national team.
Kakela and Honebein started dating seriously in 1994 and were married in 2001. Kakela gave birth to the couple's first son, Beck, in June of 2005. Their daughter, Anja, is three months old.
But she couldn't stay away from rowing, and when Honebein took a job coaching with Oregon State University in 2003, the couple moved to Corvallis, Ore., and Kakela found a spot with the women's team. While with OSU, she was named Northwest Region CRCA Assistant Coach of the Year and helped coach the Beavers to back-to-back winning seasons. The team also won medals at the PAC-20 Championships in 2004 and 2005.
When Honebein was offered the head job with Penn State University, they decided to move to Pennsylvania. Once again, Kakela was able to latch onto a job as a women's crew coach.
Today, she is happy in her new role not only because it allows her to pursue her own love of rowing, but also because she can inspire other women to push themselves to new heights, while paving the way for the next generation of American rowers.