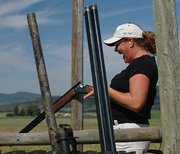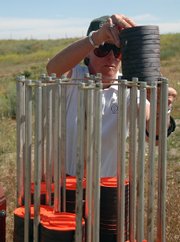 If you go
What: Sporting Clays shooting range
Where: West of Steamboat Springs on U.S. Highway 40. Six miles from downtown Steamboat and 1 mile west of Steamboat II, on north side of road.
When: Available seven days a week, May to October.
Contact: Walk-ups welcomed on the weekends, but shooters always are encouraged to call ahead, at 846-5647, to make reservations.
Cost:
- 50 targets: $25
- 100 targets: $40
- Ammunition: $6/25 shells
- Gun Rental: $20
- Instruction: $40/hour
Steamboat Springs — The hills west of Steamboat Springs offer expansive and beautiful views. Brilliant green fields unfold all around. Flattops stand in the distance, stubbornly clinging to their snow even in late July, and Sleeping Giant truly is more gigantic here, six miles from the congestion of Lincoln Avenue and near the base of one of Steamboat's most recognizable landmarks.
"Beautiful" fits, but "tranquil" is spoiled early and often at the Three Quarter Circles Sporting Clays range just outside of Steamboat. Two sounds continuously erupt at Three Quarter Circles: the pop of a shotgun and the exclamation - a laugh, a shout or a "Good job!" - that accompanies a target blown to smithereens.
Laid out across several hills and offering views on par with those of millionaire subdivisions nearby, Three Quarter Circles offers everything novice and experienced shooters can ask for.
"It's a family-orientated sport," said Maureen Hogue, who owns and operates the business with her husband. "You don't have to be a big hunter or a great shooter to enjoy it."
Three Quarter Circles features 12 different shooting stations. At each, the goal remains the same. Two clay pigeons are thrown from nearby machines and shooters take aim and fire, hopefully turning one or both of the neon-orange disks into powder with accurate shots.
But the shots can be difficult. Some clays launch from distant traps before soaring high and away, offering shooters only a tiny target to hit. Another, a "rabbit," launches straight toward the ground and bounds in front of the shooter, close but fast and difficult to size up.
The course doesn't have to be difficult, however, and with a few quick adjustments any of the stations can be the perfect place for a rookie to take aim. Some stations feature clays that soar high toward the shooter before they peak, slowly cutting back toward the ground like a Frisbee.
Right gun crucial
On a recent day, the tough-to-hit "rabbit" shot was accompanied at the same station by a high-arcing clay that made for an easy target against a bright blue sky.
With a wide variety of shotguns and ammunition available for rent, the experience can be tailored to anyone's skill level, and the course is altered regularly to keep things fresh.
"It can be a great thing for families. We like to get kids and women out here," Hogue said. "Kids and their dads often come out, but women are a bit hesitant. A lot of that is because if they've ever shot, it was with their grandpa or their husbands, and they gave them a gun that didn't fit and just kicked them. That hurts, and it's not funny. When you get knocked down, it's not funny.
"We take them out with the right shotgun, then they hit a target and all of the sudden they're like 'Oh!'" Hogue continued. "They don't get bruised, don't fall down or get knocked out of the station."
Three Quarter Circles is in the middle of its fifth season, typically staying open from May to October and shuffling in enough summer tourists to keep the Hogue's hopping.
When they initially started the business, they got by with 10 manually operated traps - machines that required a staff member to load and cock before every throw. Most of the current traps were added in 2004, picked up used from a Mesquite, Texas range. They have made a huge difference, Maureen Hogue said.
Now, clays can fly from every direction with the push of a button. They even come from above, with several traps set atop high towers to let the targets drift in over a shooter's head.
There is only one problem. It sometimes can be hard to track the clay pigeons as they drift down. It's not that the orange is hard to see, but with a backdrop that is some of the widest views in the area, it's easy to get distracted.
"I love doing this," Hogue said. "I love the enthusiasm of people shooting and the enthusiasm of a first-time shooter. Just this morning I had a 14-year-old and a 15-year-old here for the first time, and you should have seen the glow in their eyes after the 14-year-old hit a target. I get just as excited as they do."