Red Creek subdivision
See audio slideshow
Photo Gallery
The Last Stand: Part 1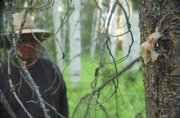 Dead tree tips
Falling trees always are a hazard when traveling in the forest. Following these safety guidelines will help reduce your risk:
- Be aware of your surroundings. Avoid dense patches of dead trees; they can fall without warning.
- Stay out of the forest when there are strong winds that could blow trees down. If you already are in the forest when the winds pick up, head to a clearing out of reach of any potential falling trees.
- Place tents and park vehicles in areas where they will not be hit if trees fall.
- When driving in remote areas of the forest, park close to a main road rather than on a one-way section. If trees fall across the road, you may be trapped.
- Bring an ax or a chain saw to remove fallen trees from roads in case you become trapped.
- Do not rely on cell phones for safety as there is no coverage in many areas of the national forest.
Source: Diann Ritschard, U.S. Forest Service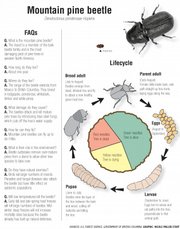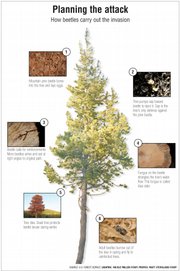 There's nothing quite as serene as lying under a stand of lodgepole pine trees.
Their fallen needles pad the ground, choking the forest floor and smothering other growth between the slender trunks.
Left alone, a lodgepole pine will grow bushy and broad. But in stands, competing for sunlight, they race to the sky, and their limbs are sparse and high. In the early evening, rays of sunlight sneak through the thin, green needles and fall to the ground like strands of blond hair, granting one the twin satisfactions of lying under a tree and the sun.
Colorado blue spruce may be the state tree, but it's easy to understand why lodgepole pine is the unofficial favorite in the hearts of many Coloradans.
"People love these trees," said Jim Burton, who owns a home in the Red Creek subdivision in North Routt County, "and now they're dying."
Burton moved to Red Creek in 2001. In 2002, he met the mountain pine beetle, a pesky insect the size of a grain of rice that had the gall to kill 40 of his and his neighbors' stately old trees. They had the dead trees removed, but they ignored a forester's recommendation to thin their woods of some of the live trees as a preventive measure.
"You thought you were cutting off people's left arm taking 40 trees," Burton said. "I've had property owners crying, absolutely crying, because they were losing all these trees."
The worst was yet to come.
Next it was 100 trees, then 200, then 1,000. Now, Burton and his fellow homeowners are having 15,000 to 20,000 trees removed from their subdivision - and wishing they had taken a different tack.
"At the beginning, we were all in denial," Burton said. "They were telling us we needed to thin, and people just didn't want to believe it. We just loved them to death."
Foresters are just as guilty; however, and it is unlikely any amount of prevention would have thwarted what most now accept as fact.
"The situation is, all of your trees are going to die," said John Twitchell, a Steamboat Springs-based district forester with the Colorado State Forest Service.
Burton's experience is a microcosm of the forest management - or mismanagement - practices that have contributed to an unprecedented epidemic across the state and the Rocky Mountains, from British Columbia to Mexico, as far west as California and as far east as the Dakotas.
The mountain pine beetle likely will kill the majority of Colorado's large-diameter lodgepole pine trees within the next three to five years, according to the U.S. Forest Service. Diann Ritschard, a local spokeswoman for the federal forest service, said that in typical years, between 20 and 30 dead trees are removed from campgrounds across Routt County. This year, thousands of dead trees are being removed.
"We're losing the battle," Twitchell said. "It's a drastic change in appearance. : I think the 'Oh, my God' factor is going to be pretty high this year."
No refuge
Steve Gilbreath strolls happily out of his camper to welcome visitors to Lodgepole Campground in the Gunnison National Forest. The setting sun glows orange off the trunks of the campground's namesake trees as the Taylor River flows nearby.
"We've been coming up here to camp in the canyon since I was a kid," said Gilbreath, a retired Texan who spends his summers as Lodgepole Campground's host. "It would absolutely just kill me to see all this die out. If we couldn't come up here and spend our summer, I don't know what we'd do. : The spruce are nice, and they're kind of pretty, but these lodgepole are pretty unique."
From Gore Pass to Mount Werner to Hahn's Peak, red trees are increasingly redefining the landscape of Northwest Colorado. But you have to look pretty hard in the Gunnison National Forest to find evidence of the mountain pine beetle. It could be only a matter of time, however, before the area succumbs to the insect, said Roy Mask, a Gunnison-based entomologist with the U.S. Forest Service.
Throughout the continent, beetles are thriving in some altitudes and climes like never before because of higher temperatures. Scientists in British Columbia, home to the largest mountain pine beetle infestation in North America, are performing studies with troubling implications. Eighty percent of the province's lodgepole pines are expected to be dead by 2013, according to Natural Resources Canada. Compared to 1.5 million acres in Colorado, British Columbia's Ministry of Forests and Ranges estimates the cumulative area of the province affected by the pine beetle to be 33.3 million acres, or about four times the size of Vancouver Island.
After a freak wind event that sent the beetles across the Rockies into Alberta in 2006, Dr. Dezene Huber at the University of Northern British Columbia began researching the possibility that the epidemic could spread through Canada's boreal forest all the way to the eastern seaboard and dip into the U.S. through the heavily pined Great Lakes and mid-Atlantic regions.
"I hope it doesn't," Huber said. "I'm always sort of optimistic. In the same vein, we never thought it would blow up in these parts like it did. : It's amazing what these guys will do in high numbers."
The forest lifestyle
In a state so largely defined by its appearance and recreational offerings, it's hard to understate the impact of the mountain pine beetle in Colorado. And it's easy to understand the anger and frustration that has accompanied it.
"They're just beautiful trees, and that's what people thought they were buying into," Burton said about himself and his North Routt County neighbors. "They thought they were moving into a mature forest. Well, it is mature, but it's also ready to move on.
"Sometimes you got to get run over before you realize you're in the middle of the road. And that's what happened to us. It's very sad. Here's a 75-foot tree. All of a sudden it's infected with beetles. : You just can't replace that tree. You can't do it. If you had all the money in the world, you can't replace it."
The aesthetics alone are overwhelming, but the beetle is having more concrete impacts on mountain life that will be felt for years to come. According to Mary Ann Chambers, spokeswoman for the Mountain Pine Beetle Incident Management Team, the beetle is threatening public safety on 911 miles of trails, which is about 20 percent of all the trails in the Medicine Bow, Routt, White River, Arapaho and Roosevelt national forests; 3,467 miles of roads, or about 40 percent of all the roads in the forests; and 21,455 acres of developed recreation sites, which equates to 19 percent of all the campgrounds and picnic areas.
Sights such as the trash bags taped over the entry sign for the Blacktail Creek Campground in Routt County are coarse reminders that use is limited or entirely banned in these areas while hazardous trees are removed.
"The character of the sites will change when the large trees are gone," Chambers wrote in an e-mail. "Structures and saplings can be added to provide shade and screening, but it will take time and money for this to happen."
Finally letting go
Not far from Huber's British Columbia laboratory, Geof Magrath stands in the Prince George Golf and Curling Club's pro shop, the gnarled ghosts of trees lining the fairways behind him. Magrath, the associate pro, speaks distantly about the decimation of the golf course that has been his second home since he played his first round at age 8, 30 years ago.
"Last year was when the rest of the trees went," he said. "Now all them are dead. It's just relentless. They're everywhere."
Later, Magrath whizzes around the course on a golf cart, pointing out where thick stands used to define fairways, back greens and stop errant balls from flying toward the highway.
"I still manage to get behind them sometimes," jokes Magrath, pointing at the stumps of trees that used to punish golfers for going long on their approach shot.
There aren't as many stumps as you would expect, though; the course is one of the only places in the city that has not removed all its beetle-killed trees.
"We're so used to having a tree-lined golf course that mowing down all the trees was not attractive to the members," Magrath said. "It's just something you get used to. It looks really weird, but I don't even notice anymore."
"Really weird" is an understatement for a place that feels downright spooky, but it seems most golfers, like Magrath, have moved past it. It's men's night, and the course is packed.
"It's like home," Magrath said. "I don't want to leave. I like the golf course. It's a great golf course."
Even so, the conifer corpses present a liability concern that can't be ignored. There have been no accidents, but it's not uncommon for winds to topple trees, or for golf balls to send dead branches flying.
"If there's enough of the canopy left, the wind will catch it and the top falls off - not that there's a lot of canopy left," Magrath said.
The course will move to a new site north of the city in 2010. It has trees but very little pine.
"That was a requirement," Magrath said.
Born to die
"We haven't allowed the forest to die," said Dave Steinke, a spokesman for the U.S. Forest Service. "It's sick, and something's going to happen to it. And right now it's bugs."
Officials with the federal and Colorado state forest services are the first to admit they haven't done a good job in recent decades. A gung-ho approach toward the suppression of wildfires and policies that haven't allowed fire to be mimicked through logging operations have allowed lodgepole forests to grow thick and old.
Years of drought have stressed trees and robbed them of the moisture they need to produce the sap that is their natural defense against the boring insects.
The resulting mature, stressed trees are like pizza to bark beetles, and forest management policies and nature have combined to put out a buffet. On an afternoon earlier this summer - after 215 trees were removed from Howelsen Hill - George Hines, arborist for the city of Steamboat Springs, said he's the busiest he's been in 14 years on the job.
Although mitigation is a major concern, there are plenty of people viewing the dead forest in economic terms.
At the Rocky Mountain Pellet Co. in Walden, plant manager Bob Stahl is ready to convince anyone that his mill will be the most important player in getting the dead trees out of the forest. And in a remote area of the Roosevelt National Forest in north Larimer County, more than any of the trees he's logging, woods boss Jerry Heggie would rather sell you on the ineptitude of the U.S. Forest Service.
"It seems like common sense has gone out the window with them," Heggie said.
While Heggie is skeptical the Forest Service will throw open its arms to commercial logging as a result of the mountain pine beetle epidemic, there do appear to be changes in store for the fighting of wildfires.
Officials say they will let more fires burn. Their motivation is based not only on a desire to allow more natural forest regeneration, but also because dead standing trees, known as snags, are the second leading cause of death for wildland firefighters.
"We're not going to put firefighters in country with dead trees," Steinke said. "No acre is worth a firefighter's life - and no house."
Even for those like Steinke, who view the epidemic as Mother Nature finding a way to do what we wouldn't let happen ourselves, there are moments of remorse.
"My daughter - or my daughter's daughters - will never see Routt County the way I knew it," Steinke said. "I think that's the hardest part for me."