Photo Gallery
Craig Centennial: Looking Back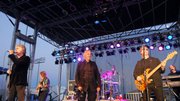 If you go
What: Centennial meeting
Where: City of Craig Council Chambers, 300 West Fourth Street
When: 7 p.m. Tuesday
• The centennial committee would like as much public input as possible for what to include in the time capsule. To access the suggestion box for the capsule, visit Craig City Hall.
As men's facial hair grew from January to April, so did the fervor of the community for Craig's three-month centennial extravaganza.
Christina Currie, centennial committee member, said the level of participation in the Brothers of the Brush beard-growing contest - which took place on Craig's actual 100th birthday, April 21 - set the tone perfectly for the rest of the centennial events to come.
This amount of public enthusiasm has carried the celebration beyond the 100 days for which it was originally scheduled. Tuesday's closing ceremonies for the centennial have been postponed until later in the year so committee members can have more time to decide what materials should go into the time capsule that they intend to bury.
"We've got a temporary list of items," Mayor Don Jones said. "We're thinking we want to put in a few business cards, a brick from the middle school, and some of the centennial stuff, like the coins, or a ticket from the Three Dog Night concert or the AirFest."
The committee will host a meeting at 7 p.m. Tuesday in the City of Craig Council chambers. Community members encourage the community to attend and voice opinions as to what should be included in the capsule.
"We'd really like to see the younger generation at this meeting," Jones said. "They're the ones that will be around when the capsule is opened in 50 or 60 years. I just hope that if we put pictures on a CD or something, people in that time will still understand how to use it."
Currie looks at the delay of the burial as a positive.
"There's been so much discussion about it that we had to extend it," she said. "We want to come up with something that people will be in awe of in 50 years."
The hard part will be capturing the summer months that Currie described as "a whirlwind."
"We had people telling us that this was a much better centennial celebration than other ones they had seen," she said. "The concert was definitely the premiere event, since it was the biggest music event we've had in a long time. But, all the events exceeded our expectations, and not a single one had low attendance."
Committee member Pam Foster also applauded the spirit of the community, as well as the work done by her fellow committee members.
"We really worked well together," Foster said. "Putting this together took a tremendous amount of work. It's a really diverse group of volunteers, and I think it's amazing what we accomplished."
Andy Bockelman can be reached at 875-1796 or abockelman@craigdailypress.com