Past Event
Saturday, July 26, 2008, 9:30 p.m. to 1:30 a.m.
Cafe Corretto, 685 Marketplace Plaza, Suite C8, Steamboat Springs
Not available / Free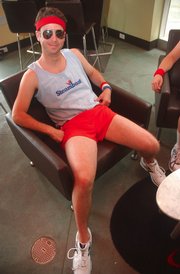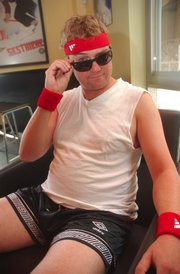 Steamboat Springs — Clad in a powder blue Steamboat logo tank top, a sweatband, aviators and a pair of red shorts for which the word "short" is almost an injustice, Tony Santora isn't exactly the definition of hip.
And the kind of music he spins as DJ Theory - a sort of exuberant electronica that drops the bottom out, brings the disco in and invites its audience to fist-pump and knee-stomp till the break of dawn - is not designed to make its fans look cool.
This is where the costume comes in: Santora's music, commonly known as "house," is not a conscious effort for its listener. It is not going to a bar in a new outfit and trying to woo other people on (or off) the dance floor.
"If you're dressed like me, that's already out the window," Santora said, explaining the "Aerobics Class" theme for Saturday's Steamboat Grooves dance party. The bi-weekly event, a brainchild of Santora and local DJ David Caddell, uses a purposeful brand of silliness to expose Steamboat Springs to music that moves.
The idea is to build a scene around house music, and to do it by hosting events that are close-knit and don't charge a cover.
"We feel like there's a real subculture here for house music and electronic music styles, but it's just not represented," Caddell said.
Caddell is from Detroit, and Santora from just south of the San Francisco Bay Area. Both areas had their heyday as breeding sites for the musical underground. The DJ team hopes to bring a taste of the electronic vibe they were weaned on to the mountains.
"I like all forms of electronic dance music," Santora said. "The reason we decided to focus on house here in Steamboat is that we figured out it's the best stepping stone into underground music."
House music has soul, Caddell said, and it has roots in American song forms. Techno, after all, wasn't born in some French discotheque. Techno was born in Detroit.
"House has a little bit more of a grooviness to it. Techno has a little more braininess to it, and house is more body music," Caddell said. Steamboat Grooves covers Amante Coffee's club fees every other Saturday to bring that music to Steamboat Springs - and they're more than happy to pay.
"We wanted to really kind of open up the options for what there is to do in town at night," Santora said.
We wanted to "move it away from a DJ, who's kind of a jukebox standing up there playing what you want to hear, and move it more to a DJ as a performer, where he's taking you somewhere he wants you to go."