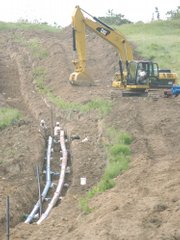 Ski Corp.'s main capital projects in 2008
- Snowmaking system, pipe replacement
- New grooming equipment
- Meadows parking expansion
- Master plan upgrade
- Steamboat Ski & Sport center downtown
- Information technology improvements
Season pass prices,
if purchased by Aug. 15
Adult (18-69): $979
Teen (13-17): $529
Child (6-12): $289
Child (5 and younger): $30
Senior (70 and older): $349
Go to: www.steamboat.com...
Steamboat Springs — The Steamboat Ski Area is pumping up parking and its downtown presence ahead of the 2008-09 ski season.
Steamboat Ski and Resort Corp. released its list of capital projects for the summer this week. Ski Corp. plans to add about 200 spaces to the Meadows parking lot and expects to open a new office in the downtown Howelsen Place development in November.
Steamboat Ski & Sport Downtown will offer merchandise, lift tickets and vacation planning services, Steamboat Ski and Resort Corp. President Chris Diamond said.
"With all that's happening down there and all the new lodging units, there would seem to be an economic opportunity, and we love the building," he said.
Of the more than $4 million in projects, the largest task is a snowmaking pipe replacement, Diamond said.
The pipe, of a new variety meant to last about 50 years, runs along the Right-O-Way, See Ya, Bashor, Lower Vagabond and Lil Rodeo trails.
"It's kind of a key trail for us early in the season," Diamond said of the trails' lower mountain area. "We're trying to get that open for racing and just the enjoyment of early season skiing."
Ski Corp.'s parent company, Intrawest, decided how much to dish out for summer improvements. The ski area received work worth more than $16 million for the 2007-08 season and more than $7 million in the 2006-07 season.
Much of this year's work is an extension of last year's projects, Diamond said.
"I guess I look at it as kind of a year in which we catch our breath a little bit but finish up the big programs from last year," he said. Ski Corp. is still finishing the Headwall reconstruction project and continuing snowmaking improvements from last year, he said.
The Steamboat Ski Area receives funding from a pool of money dedicated to all of Intrawest, Diamond said. The company owns 11 resorts in the U.S. and Canada.
"I think the ownership group, which is Fortress, does the macro-planning as far as what the annual capital dollars will be, and we compete for that pot," Diamond said.
Diamond said he expects the planned improvements to be completed before the season.
"Everything we needed to order is here; our bulldozer is in place," he said. "We'll be in great shape."
Spokeswoman leaving
Ski Corp. spokeswoman Heidi Thomsen, who has worked in public relations at the resort for four years, plans to leave at the end of August, spokesman Mike Lane said.
"It's just been a once-in-a-lifetime experience working at the ski resort and meeting people from all walks of life from across the world," Thomsen said. "Plus, what a great thing to have skiing and snowboarding as a part of your everyday job."
Thomsen is getting married in September and plans to get her real estate license and help with her father's health-insurance business.