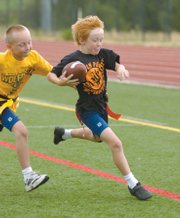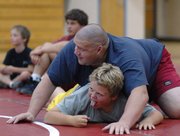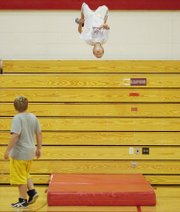 Steamboat Springs — Rulon Gardner has been big since he was a child, growing up near a small Wyoming town.
He was big in 2000 when he defeated Russian Greco-Roman wrestling superstar Aleksandr Karelin to win the Olympic gold medal, and he was still big Tuesday afternoon as he worked with wrestlers at Steamboat Springs High School on the first day of the two-day Rulon Gardner Wrestling Camp.
But it isn't Gardner's size that made the camp worthwhile, attending coaches said. As big as he is, it's the small things that make the difference with Gardner.
"Just the big personality of a man like Rulon Gardner is enough to get the kids' attention," Steamboat wrestling coach Sean McCarthy said. "When he goes through the moves, he intersperses his stories with strategies and mindsets that the kids maybe wouldn't hear coming from someone else."
Gardner returned Tuesday for a fourth summer camp in Steamboat Springs, and again he brought his amazing life story and deep knowledge of wrestling.
He spent the afternoon working with nearly two dozen area wrestlers in a gymnasium without air conditioning, weaving in a story with nearly every move and attack he demonstrated.
"These are the real deal," he bellowed at one point. "I've used these. I've won a lot of matches with these moves."
Gardner skyrocketed onto the national radar with his stunning 2000 Sydney Olympics performance, and he's managed to stay in America's consciousness after surviving a series of accidents that helped turn a small-town farmer - who struggled to make his high school wrestling team - into a living legend.
He most recently survived a plane crash, his small plane going down two years ago in a lake near the Utah-Arizona border. He also lost a toe to frostbite after another wilderness accident, survived a motorcycle crash and was impaled with an arrow.
Those events have done more than keep the wide-smiling Gardner in the headlines, however. They've grown to be an important part of the roughly 15 wrestling camps Gardner puts on each year.
"I come in and show them good wrestling technique, correct technique, but I also show them the values wrestling instills upon you," Gardner said. "That's probably the biggest benefit of wrestling, just the self-worth of knowing I can do anything if I put my mind to it."
He amazed his campers Tuesday with his size, playfully squashing young campers and visiting coaches as he demonstrated moves. He spent plenty of time showing he still has it when it comes to wrestling.
Gardner fought to a bronze medal at the 2004 Athens Olympics and is traveling to Beijing for the 2008 Olympics early next month. He'll be one of the lead commentators for all of NBC's wrestling coverage.
All that know-how was on display on the mats in Steamboat.
"He does a lot of great stuff with the motivational things, but he's showing them a lot of moves I don't really know," said North Park High School wrestling coach Roy Gollobith, who traveled from Walden with four wrestlers. "The fact that he's won a gold medal really helps get everyone's attention.
"He's really tough, and he's been through a lot. I wish all wrestlers had that mentality."
- To reach Joel Reichenberger, call 871-4253 or e-mail jreichenberger@steamboatpilot.com