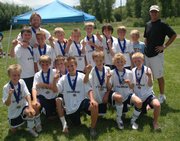 Steamboat Springs — Steamboat FC U-11 boys soccer coach Michael De Jong looked out over his players kneeling down in front of him at the Emerald Park soccer fields in Steamboat Springs.
"Just another day, right boys?" he asked. Even he couldn't hold it together and quickly broke out in a laugh.
Moments later, he was dashing toward the Yampa River, fulfilling a promise he made to his players. If they won their bracket in the three-day Steamboat Mountain Tournament, he would take a dip in the river.
He was happy to oblige after Steamboat beat the Colorado Rush, 2-1, Sunday afternoon in the U-11 finals.
"Let's go!" he shouted as he took off for the river, 14 eager soccer players matching him step for step.
Matthew White scored a pair of goals, and Ryan Musselman had a key first-half save on a penalty kick, as the U-11 team was one of two local squads to play in Sunday's tournament finals.
The U-11 team beat the Rush while the U-14 boys squad lost to the Craig Storm, 5-0.
For De Jong's U-11 team, Sunday's win was sweet proof that it is among the best in its class. The team went undefeated in last year's fall league, playing at the Challenge club level, then this weekend beat four teams from the more difficult Classic level.
"This group continues to amaze us," assistant coach Ben Beall said. "They sent chills down our spines this weekend. They're so young, but they play so mature."
It was a team effort that earned the championship Sunday, the Steamboat side holding off several late Rush pushes while threatening several times to score an insurance goal in the waning minutes.
The success came as little surprise to Beall.
"They control the ball really well for their age group. They aren't just putting their heads down and running around," he said. "They're working as a team, they're savvy about their shape on the field and they get wide on offense and work well at getting back on defense."
The tournament title was sweet validation after the squad endured a rough outing against upper-tier teams last month in a Boulder tournament.
"We only won one game down there, but it was a good test and helped set this up," Beall said. "They stepped up after that and beat some really good teams this weekend."
Clay Rogers, coach of the U-14 team, the only other Steamboat team in action for Sunday's finals, said that while his team wasn't happy with its performance in the final, it was thrilled with the tournament overall.
His team came into the weekend with only eight practices under its belt and only two for which the entire team showed up.
"We were up against a team that had a lot more experience this season and was more practiced than we are," Rogers said. "We're just starting soccer now. To do as well as we did was pretty incredible."
Boys and girls teams, mostly from across Colorado, flocked to Steamboat through the weekend to play in 12 divisions. The tournament consisted of about 250 games and wrapped up early Sunday afternoon.