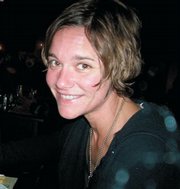 Steamboat Springs — Age: 33
Occupation: Musician
Place of birth: St. Petersburg, Fla.
Q. When did you move to Routt County, and what brought you here?
A. In October 2006. I was a starving musician and my best friend offered me a free couch in the most beautiful place in the world.
Q. What's the biggest risk you've taken recently?
A. I went to Europe with virtually no money in my pocket to play music and do my best to be a rock star.
Q. Describe your morning routine.
A. Get up, let the dogs out, journal, meditate, check e-mail, call Mom, plan my day - all while sipping decaf coffee or throat coat tea with honey.
Q. Has a book ever changed your life? What was it and why?
A. "Way of the Peaceful Warrior" by Millman. This was before it became popular and glamorized by Hollywood. It was two years ago and I seemed to be on the same path as the main character. There were many passages in that book that I needed to read to maintain my sanity.
Q. What's the best piece of advice you've ever been given?
A. "Love like it's the last minute of your life."
Q. What three things would you want people to know about you?
A. 1. Love is simple, and the single most important thing to share. 2. Fear is the motivator for success. 3. My favorite person in the world is my golden retriever, Duke.
Q. If you could invite any four people to dinner, who would they be, and what would you talk about?
A. 1. Ghandi, 2. Buddha, 3. Jesus, 4. George W. Bush.
I just think it's time for someone to get a spanking.
Q. Do you collect anything?
A. Great memories.
Q. Who is your favorite superhero? Why?
A. My mother. Because of her unconditional love and support.
Q. Do you have a tattoo? If so, what of and why did you choose it?
A. I have several. My first was a little sun and moon that I shared with a good friend of mine. I have since been inked with eagle feathers, an "Om," a giant butterfly, a guitar and a personal symbol.
Q. Do you have any phobias?
A. Tight spaces.
Q. What is your favorite thing to do in Routt County?
A. Winter: Snowboard and drink beer. Summer: Hike/camp and drink beer.