If you go
What: American Cancer Society Relay For Life, third annual in Steamboat Springs
When: 4:30 p.m. Aug. 8 to 11 a.m. Aug. 9
Where: Gardner Field at Steamboat Springs High School
Call: Event co-chairman Marvin Lindsey at 871-4770, or Linda Jackson at 870-3288
For more information: To learn more about Relay For Life in Steamboat Springs, go to www.steamboatrela.... The site has bios for participating teams, as well as an option to donate online.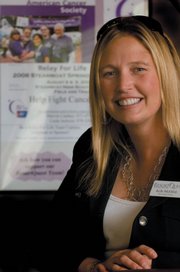 Steamboat Springs — Kelly McElfish and Pat "Cowboy Pat" Nugent had been dating for about five months when Nugent noticed an abnormal lump on his skin.
During the next three years, McElfish took care of Nugent while she watched tumors take over his body, as an aggressive form of melanoma spread to various organs and, as McElfish said, "took the cowboy out of Pat."
More than 1 million people are diagnosed with cancer each year, and countless others feel the effects of the disease. On Aug. 8 and 9, some of those people will join the almost 400 already-registered participants at the Steamboat Springs High School athletic field in the American Cancer Society's Relay For Life. For the event's third year in Steamboat Springs, organizers hope to surpass last year's fundraising total of $194,000.
McElfish, in her second year as food and beverage coordinator for the event, got involved with Relay for Life to honor Nugent, and to add her support to the race for a cure.
"Although I had known about cancer prior to my friend's passing : until you watch someone die, in your arms, you never know how bad cancer is, or can be," she said.
Losing a friend
About eight years ago, doctors did a biopsy of Nugent's mole, and diagnosed him with Stage 3 melanoma. After the diagnosis, Nugent went through chemotherapy treatments five days a week for four weeks. From his skin, the cancer spread to his lungs, and doctors fought it with operations and more chemotherapy. Six months after Nugent's diagnosis, his doctors thought they had gotten everything.
A year and a half went by, with regular check-ups and no incident. Then Nugent slipped and fell, and he ended up in the hospital. While he was there, doctors found a tumor on his brain. It was malignant, and the cancer spread.
"They didn't put him through any more treatments of the chemo, because it was too aggressive at that point," McElfish said. There were medications and various hopes for treatment, but nothing worked.
"That was probably the saddest period of time, because he kept believing that he could get cured," she said. "(He hoped) they'd find something, and then they didn't."
Nugent spent what McElfish described as "a grueling week" in hospice at the Doak Walker Care Center and died with 13 close friends in the room. He was 37.
Getting involved
It's been just more than four years since Nugent's death, and McElfish said she has tried to be positive as she moves forward.
This is how she ended up with Relay For Life: A cancer survivor and co-worker asked McElfish to volunteer as food and beverage coordinator for last year's event. She plans to stay involved for years to come.
Fundraising for this year's Relay is about on pace with the 2007 event, said event co-chairman Marvin Lindsey. Organizers hope to raise $200,000 at this year's event, topping a previous total that won Steamboat Springs highest per capita fundraising in its region, and the third-highest per capita numbers in the country.
As of Friday evening, the Steamboat Relay For Life Web site showed 44 registered teams, 392 registered participants and funds raised of more than $84,500.
"Generally speaking, we're on pace," Lindsey said. "A lot of Steamboat does a lot of things at the last minute, so some of the teams are just starting to move on to Relay."
It's not too late to register a new team, though anyone interested in doing so does "need to get a move on," he said.
Staying strong
For those who have loved ones fighting cancer, McElfish said the best advice she can give is to avoid isolation from friends and family, stay mentally and physically strong, and remain positive through the pain.
"The smile on your face is sometimes all the person you're giving care to may need. And you have to realize that sometimes it's that simple - they just need you," she said, acknowledging the challenges of acting as someone's main contact through their struggle.
"It definitely changes your life, because no matter what it is, you are second to the disease," she said. Taking care of Nugent was her choice, McElfish said. She never thought about not doing it, and it would have never occurred to her to complain about it. But that doesn't mean it wasn't hard.
"All of the drugs change the person, and you have to adjust to that. You can't take things personally," McElfish said. For months she gave Nugent baths, food and shots.
"(It was also) just keeping his dignity, which he kept, and he kept his head high," she said. "And just maintaining his spirit. And mostly, holding his hand."
Although she was Nugent's main caregiver through his illness, McElfish said her friend's death was a loss for a lot of people in town.
"He was so well-known, and he was so well-respected and so well-loved, it's just hard to see something in the prime of his life be taken," she said. Her experience with Nugent has made McElfish an advocate of early detection for all forms of cancer, especially melanoma, through regular skin checks and visits to the doctor.
"You just watch the disease encompass someone's body. And knowing you're not able to take it out or remove it or do anything about it, you just feel pain. And that's part of the drive to find the cure," she said.