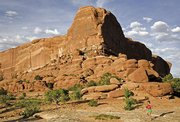 Endurance trail running competition can be tough, Allen Belshaw said.
But he wasn't talking about the grueling heat, impossible miles, the thousands of feet of climbing or treacherous dirt-trail descents. He was simply talking about signing up.
"I've been doing it 10 years now, and in that time, the sport has really grown," said Belshaw, one of the most accomplished endurance trail runners in Steamboat Springs. "A lot of the big races, they've become so popular you can't even get in them. Wasatch, Hard Rock, Western States - all three I was wait-listed for."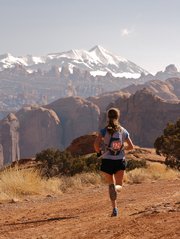 Long-distance trail running is growing in a big way, nationally and locally.
It's a trend that's caught on in Steamboat Springs and will hit the late-summer spotlight when a pair of endurance trail runs sweep into the Yampa Valley.
The Mountain RATS endurance trail race is a four-stage event set to start near Steamboat on July 31. Stages will consist of 10- to 25-mile trails, with racers packing along all their food and equipment for the entire four-day adventure.
"It's like the Tour de France. They add up the times from each day, except you hang out and camp with the other racers in between, so we'll camp each night around the Continental Divide," Belshaw said. "It's going to be tough with all the mosquitoes. Hopefully, people will actually come back."
The Run Rabbit Run Steamboat 50 will follow the Mountain RATS race, returning to the area for its second summer.
Last year's race was a success, said Betsy Kalmeyer, who's co-coordinating the event again this year with Fred Abramowitz. The initial Steamboat 50 drew about 80 competitors. Kalmeyer said she expects a substantial increase this year.
"We're already ahead of last year, and we'll probably get closer to 120," she said. "Our cap is at 150, and that's just for safety on the trails."
Youth movement
The surge in local races is welcome news for Belshaw, who travels the country hitting up endurance races.
Jenna Gruben, Matt Morrill, Angie Mangiardi and Mike Hlavacek just took to endurance trail running - races longer than a 26-mile marathon - last summer, and finished together, completing their first such race in September at the Steamboat 50.
"There's a lot of potential there," Kalmeyer said. "The core of support they have for each other is really good, and that has really helped them."
The addition of younger ultra runners - not the Steamboat foursome, who all hover around 30 years old, but those filling races across the country - has helped revitalize the sport, Kalmeyer said. Races that 10 years ago were filled with 50-somethings with free time on their hands are filling up locally and nationally with adventurous young runners.
Gruben, Morrill, Mangiardi and Hlavacek represent that movement in Steamboat. They said that alone, they're not sure they'd have gotten as into the sport as they have, but together, and with the guiding hand of Steamboat's veterans, they've quickly grown to love every step.
"We all sort of met each other and started training for Steamboat 50 together. None of us had done it (before)," said Mangiardi, who formerly concentrated on marathons and half marathons. "It's really a different experience. As opposed to trying to go faster (in road marathons), we're pushing the envelope in a different way."
Each of the four runners conquered their first endurance trail run, and they haven't looked back since. They've traveled together to several other events around the region.
"You see so many beautiful places you've never seen," Gruben said. "You couldn't see all that in that amount of time any other way."
They built toward their first race by working out together and sticking to a manageable amount of miles, Morrill said. Since then, they've started making plans for bigger and longer races.
All four plan to hit the Steamboat 50 again, while Gruben and Morrill recently signed up for the Mountain RATS race.
"There are tons of races and tons of new places to go check out that we want to see and do," Morrill said.
He, along with the rest of the group, doesn't have any plans of slowing down.
"We live in a beautiful place, and there are so many trails around," Morrill said. "The opportunities to get out and check stuff out are pretty much limitless."
- To reach Joel Reichenberger, call 871-4253
or e-mail jreichenberger@steamboatpilot.com