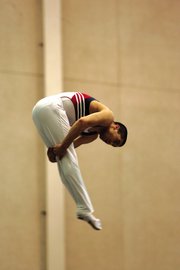 Steamboat Springs — The experience hasn't come close to setting in for Chris Estrada.
Like many first-time Olympians, he's still in awe of competing in Beijing. But it may take a few months - or even years - for it to set in that Estrada will be the first American male to compete at the Olympics in his sport.
"It really hasn't hit me," said Estrada, who will compete in the sport of trampoline. "I'm just so happy. All I can do is smile."
Trampoline has been around for the past two summer games, but the United States hadn't qualified anyone until Estrada.
Estrada, whose parents live in Clark, has been honing his skills at the U.S. Olympic Training Center in Colorado Springs. He qualified for the games by finishing as the top American in the Olympic Selection Point Rankings.
"We are still doing the same training schedule as before," Estrada said. "Now it's trying to fix those little-bitty things and staying in shape. I'm trying not to overwhelm myself, but once I get there, I'll be pretty nervous."
Trampoline has a rich history in the United States. Trampoline dates back to the 1930s, when American gymnasts George Nissen and Larry Griswold invented the sport. The first competitions began in 1948, with the first world championships in 1964. The U.S. dominated the world championships in the early going, but injuries from the sport resulted in lawsuits, effectively stymieing the growth in America.
Trampoline first bounced onto the Olympic schedule in 2000. Traditional powerhouses include athletes from Russia, Canada, Ukraine and Germany.
In the Olympics, the trampoline competition consists of two preliminary rounds and a final round. In the first preliminary round, athletes have to complete 10 skills and are mostly judged on body control. In the second preliminary round, competitors do any 10 skills they did not do in the first preliminary round.
The top eight athletes advance to the finals, where they can do any jumps and tricks they like.
Olympic dream
Estrada, 25, grew up in Plains, Texas.
He admits he was a shy child and his mother, Corina, wanted him to partake in an activity outside of school.
So when he was 6 years old, Estrada started tumbling and doing the trampoline.
"She would take me in, and I'd throw a fit for a few minutes," Chris said. "I was fine once I started going. I actually liked it."
That feeling turned into a passion, and by the time he reached age 17, Estrada started focusing just on the trampoline.
"At the time he started doing it, we didn't even consider he'd ever make it here," Corina said. "We always knew he had talent, when the 2000 Olympics came along, he really started to focus."
Estrada will be in Beijing for the Aug. 8 Opening Ceremonies. The preliminaries for trampoline start Aug. 15, with the finals Aug. 18 and 19.
He said the training in Colorado Springs has been intense, but he was able to get up to Steamboat Springs for the Fourth of July weekend.
Going into the games, Estrada is considered an underdog. Still, he said his goal is to make it to the finals and then go from there.
"I think it will be a great experience," he said. "It will be a positive experience. I'm not sure what to expect, but I know it will be positive."
- To reach Luke Graham, call 871-4229 or e-mail lgraham@steamboatpilot.com