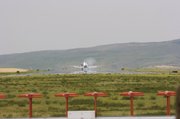 YVRA airfares
Round-trip fares for top 10 ski season markets
Arriving at YVRA on Dec. 28, 2008, and leaving Jan. 3, 2009
Atlanta: $880
Chicago: $869
Dallas/Fort Worth: $1,044
Fort Lauderdale, Fla.: $1,313.99
Houston: $791.49
Minneapolis: $809.01
Newark, N.J.: $1,097.99
New York: $1,097.99
Tampa, Fla.: $992
Philadelphia: $1,185
Source: Steamboat Central Reservations
A sample of round-trip flights, as of Thursday
- $233 to Fort Lauderdale, Fla. (Aug. 20 to 26)
- $248 to Los Angeles (Aug. 23 to 31)
- $248 to San Diego (Aug. 8 to 11)
- $256 to Las Vegas (Aug. 25 to 29)
- $257 to San Francisco (July 31 to Aug. 4)
- $257 to Portland, Ore. (Aug. 8 to 11)
- $261 to Chicago (Aug. 16 to 22)
- $265 to Oklahoma City (Aug. 25 to 29)
- $265 to Austin, Texas (Aug. 7 to 10)
- $275 to Dallas/Fort Worth (Aug. 16 to 23)
Source: Kayak.com
Steamboat Springs — Despite months of abysmal airline news, travelers leaving from Yampa Valley Regional Airport in Hayden might be able to rustle up some summer bargains.
Delta Air Lines and United Airlines are offering a range of flights for less than $300 round trip. High fuel costs have led to concerns about fare increases, and airlines have been laying off employees to cut expenses.
Still, travelers can track down good deals, particularly if their dates are flexible. Some round-trip tickets to Los Angeles, Chicago, Dallas and other destinations were in the mid-$200s Thursday. Andy Wirth, chief marketing officer for Intrawest, said fares for the ski season could be a different story.
"They're enjoying high load factors," he said of airlines. "That's because summer always has been and likely always will be the highest load time."
Only United and Delta flights are operating out of YVRA now.
"With specific routes in specific times of the year or specific flights, you want to stimulate traffic, so you make adjustments," Delta spokesman Anthony Black said. "Also, you make adjustments to price flights to compete with others in the market."
Black said airlines look at demand and then price flights to make a profit and remain competitive. Airlines pass along fuel costs to passengers and will continue to do so, he said.
High gasoline prices also might be discouraging travelers from driving to larger airports to catch flights, he said.
"I think passengers are considering now what are the options - if I want to drive to another airport," Black said. "Fuel is a dollar and a quarter more (a gallon) than last year. : You're paying more to drive to a larger airport, and it's often a wash."
Deals also are available for those coming into the Yampa Valley this summer. On its Web site, Steamboat Central
Reservations lists a set of Delta Air Lines summer specials, ranging from $199 for Tucson and Salt Lake City to $259 for Dallas/Fort Worth. Those prices don't include extra fees and charges.
But excitement about lower fares might be slightly muted by baggage fees, which several airlines have increased throughout the past few months.
Continental, Delta, Northwest, United and US Airways are charging $25 for each passenger's second checked bag. American Airlines is charging $15 for the first and $25 for the second checked bag for domestic economy class passengers.
Fighting the fees
Steamboat Ski and Resort Corp., of which Intrawest is the parent company, is not simply sitting on its hands, Wirth said.
The company influences fare prices, mostly because of the guaranteed revenue program. Through that, a Local Marketing District, businesses and Ski Corp. pay the airlines the difference if their revenue doesn't reach a set amount during ski season. As long as officials have the ear of pricing officials at the airlines, the Steamboat Ski Area is on track, Wirth said.
The Ski Area also is planning some promotions for the ski season. It is working on a program with American Express to pay the baggage charges for travelers coming to YVRA.
"You're going to see a program where kids fly free and your bags do, too," Wirth said. The promotion, which is set to be advertised in Skiing Magazine in September, will be offered exclusively for Steamboat, he said.
"Our mechanism is basically to be giving people a card precharged with that amount of money to take care of their bags at check-in," Wirth said. "American Express has given us a very smooth mechanism for this."
Analysts will watch the deal carefully for 45 to 60 days. If it seems to be attracting people, the baggage promotion could expand to other Intrawest resorts, Wirth said.
Ski Corp. is going to work harder than ever to promote Steamboat this ski season, he said, adding that the weak economy and high travel costs will test the marketing teams.
The fight already has started.
"The game's won or lost in spring or summer," Wirth said. "It's game time for Steamboat. We're very aggressively working at every facet of this that we can. : Even though it's 85 degrees outside, we're very much in the heat of battle for the dead of winter."