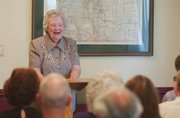 Steamboat Springs — There was a time in Steamboat Springs when prominent men in town thought women shouldn't be allowed to dance because it caused too many divorces.
Longtime resident Elaine Gay laughed Friday as she described how angry women contacted lawyers to fight for their right to dance.
"There was no proof of that," Gay said of the situation. Women were in fact allowed to dance, said Gay, who later joked that people needed to dance in Steamboat just to keep warm.
Standing in front of a packed room at the Tread of Pioneers Museum on a gorgeous summer afternoon, Gay shared firsthand accounts of "Downtown and the Locals Who Made it Unique." The event was part of the museum's ongoing Brown Bag Lecture Series.
While Gay qualified her comments by saying "I'm old now," and "I don't have much of a memory or eyesight," that was hard to believe as she pulled small details from the depths of her past to color her stories of the old Steamboat Springs.
She recalled details such as the big, bearskin coat that Dr. Frederick E. Willett wore as he braved Steamboat winters in horse and carriage to deliver babies and take care of sick folks. Gay related how Willett started the community's first makeshift hospital in the spot that now houses the Old Town Pub & Restaurant.
"He loved pumpkin pie and I used to make him pumpkin pie," Gay said fondly.
He's not the only person who has loved Gay's tasty pies. She's well-known for her recipes, and a banana cream pie she baked recently sold for $250 at a local fundraiser.
Gay went on to describe a thief who once robbed a bank in town. He wore his mother's dress to commit the crime, with her window curtains draped around his neck like a shawl. He carried his rifle across his shoulder.
"Whatever possessed him, I don't know, and I don't know how much money he got," she said. "It seems that if you were going to rob a bank, you'd be a lot more sedated than that," she said, laughing at his choice of attire.
A few people in the museum's audience came from outside of Steamboat to hear the endearing Gay speak.
Steve Karoll and his 13-year-old son, Sam, came from Evergreen. They met Gay last year during a fishing trip and quickly became friends. Karoll is a builder and is working with Gay's son, Bill Gay, to install micro-hydro water turbines in Green Creek on the east side of her ranch in Pleasant Valley. He said the turbines will generate electricity for her home.
Also in the audience was Lou Kimball, a man Gay used to baby-sit when he was a young boy. He's staying with Gay while he visits and said they have remained close throughout the years.
Gay is aware of the changes in Steamboat throughout the past 10 years, but said two things have stayed the same: the landscape is still beautiful and the people are still friendly.
"There are a lot of wealthy people moving here now, but there's nothin' stuck up about 'em," she said. "They come to my house and think it's just as good as theirs. And mine's just an old ranch house."
Gay misses the ranches - the "real ranches," as she called them.
"It isn't a ranch to me if you can't make a living off of it. It's just a hobby place for your horses, to me," she said.
In her more than 80 years in the Yampa Valley, Gay tried to leave just once. She and her late husband, Bob Gay - the couple would've celebrated their 70th anniversary Thursday - headed to Montana and Wyoming to try to find a place of their own. Nothing seemed right and on the trip, she finally realized why.
"We couldn't find anything because we were looking for the same place we left." xa