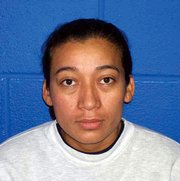 Steamboat Springs — Motions hearings for Luz Cisneros' upcoming murder trial will continue next month in Routt County District Court. Cisneros' defense, seeking to suppress most of her statements to police and evidence gathered from her residence, ran out of time to call all of its witnesses on the second day of the hearing Friday.
Cisneros' public defenders, Sheryl Uhlmann and Emily Wickham, are seeking to suppress statements made to law enforcement on the day of her arrest and during her interrogation, as well as evidence and information acquired from searches of her residence.
Cisneros, 34, is due to stand trial in September in Routt County District Court, in connection with the Sept. 6, 2007, death of her daughter, Brianna Simon, at their Walton Pond apartment. Cisneros allegedly killed her young daughter by cutting her neck with a kitchen knife and injured herself in the same manner in a failed suicide attempt.
Law enforcement and medical personnel who had contact with Cisneros on the date of the alleged crime were questioned by the defense and prosecutors Elizabeth Oldham and Carl Stahl on Thursday and Friday. Witnesses recollected their interactions with the defendant and her actions and statements on that day. The prosecution also entered into evidence the 911 call made by Brianna's father, Isaias Simon, and a recording of Cisneros' nearly four-hour interrogation at the Steamboat Springs Police Department.
Much of the defense's arguments focus on proving that Cisneros' mental, physical and emotional condition made her incapable of giving consent to search her residence and gather other evidence. Defense has rendered her statements involuntary.
"With regard to the voluntariness (of her statements), the court has to consider the totality of the circumstances," Uhlmann said. "What happened at the scene, what happened at the hospital and what happened during the interrogation."
Cisneros pleaded not guilty to first-degree murder March 13. If convicted, she faces life in prison without the possibility of parole; prosecutors are not seeking the death penalty in her case. Cisneros has remained in custody at the Routt County Jail and the Colorado Mental Health Institute in Pueblo since her Sept. 6 arrest. No bail was set in her case.
The motions hearing will continue at 9 a.m. Aug. 14. Additional witnesses who were unavailable this week already have been scheduled to testify at 1 p.m. Aug. 18.
Cisneros' trial is set to begin Sept. 8 and is scheduled for six days.
Man gets eight years
in domestic dispute
A Yampa man was sentenced to eight years in prison in Routt County District Court on Friday, in connection with a January domestic disturbance in which he severely beat and assaulted a woman.
Steven Patrick Padilla Jr., 34, pleaded guilty to second-degree assault May 15. He will serve three years of mandatory parole after his release from prison and pay an undetermined amount of restitution covering the victim's medical bills.
Padilla assaulted a woman at her Yampa home in the early morning of Jan. 19 when, according to sworn affidavits, he tried to strangle her with a nylon stocking, force-fed her pills, and sexually assaulted her while she was unconscious.
O'Hara reluctantly accepted the plea agreement agreed upon between the District Attorney's Office and the defendant, agreeing with the victim and probation department that eight years in prison was insufficient for "one of the worst beatings that I've ever seen."
Stahl said the plea agreement was appropriate given unspecified "proof problems" with the case.
Padilla originally faced felony charges of first-degree attempted murder, first-degree assault and first-degree sexual assault, as well as misdemeanor charges of violating a protection order. All other charges were dropped as part of the plea agreement.
- To reach Melinda Dudley, call 871-4203 or e-mail mdudley@steamboatpilot.com