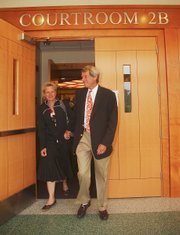 Steamboat Springs — Routt County Sheriff Gary Wall was found guilty of driving while ability impaired, failure to dim his headlights and prohibited use of a weapon Wednesday in Routt County Court, where a six-member jury rendered its verdict after a three-day trial.
DWAI is a lesser charge than driving under the influence of alcohol, a charge Wall faced after an incident Oct. 27, 2007, when a Colorado State Patrol trooper pulled Wall over at U.S. Highway 40 and Walton Creek Road for failure to dim his headlights. The sheriff was subsequently charged with that traffic violation, the weapons violation and suspicion of DUI. It is against the law to be in possession of a firearm while under the influence of alcohol.
For the DWAI conviction, Wall faces maximum penalties of up to 180 days imprisonment, a fine of up to $500 and as many as 48 hours of community service, according to state law.
Had Wall been convicted of DUI, he would have faced a one-year suspension of his driver's license - on top of the yearlong revocation he received for refusing any tests of his blood alcohol level that night. He also would have faced penalties of up to a year imprisonment, a fine of up to $1,000 and as many as 96 hours of community service.
About halfway through its 3 1/2-hour deliberations Wednesday, the jury requested clarification from Senior Judge Cecil Wayne Williams about the differences between DUI and DWAI.
The DWAI and failure to dim headlights convictions are traffic misdemeanors. Failure to dim carries a maximum fine of up to $100. The prohibited use of a weapon conviction is a Class 2 misdemeanor and carries maximum penalties of 18 months imprisonment, $5,000, or both.
A hearing to determine Wall's penalties has not been set. Williams said he wants Wall to complete an alcohol evaluation before that hearing.
Asked whether he would appeal or take any other action in the wake of Wednesday's verdict, Wall said "I'm going to have some things to say" and "I have some issues that we're going to address."
He said he is not considering resignation.
"Absolutely not. There's no chance of that happening," Wall said. "As a matter of fact, the chances are, if my health is good, I'm going to run for re-election to continue what I've accomplished."
Wall was elected to a four-year term in November 2006.
Days after the traffic stop in October 2007, a state official said Wall's citations would not hinder the sheriff's peace officer certification, which then was pending.
John Kammerzell, director of the state's Peace Officer Standards and Training Board, said only felonies and a few select misdemeanors can jeopardize an officer's POST certification. Wall cannot be removed from office except through a recall election.
After Wednesday's verdict, delivered shortly after 6 p.m., Wall embraced his wife, Jenny, and the two solemnly left the courtroom with Wall's lawyer, Ron Smith. Gary and Jenny Wall testified Wednesday. The trial began Monday.
Routt County Sheriff's Office Deputy Lance Eldridge, who on Tuesday delivered some of the most damaging testimony against Wall, resigned from the Sheriff's Office at about 10:30 p.m. Tuesday. Eldridge drove the Walls home after the traffic stop. He testified that Wall appeared to be drunk that night and, based on his observations of the sheriff, said he would have arrested Wall for DUI.
While on the witness stand, Wall recounted the evening, said he drank only one glass of red wine and conveyed his belief that there was a "bounty on his head" and a calculated effort to frame him for DUI.
"I knew that I was a target," said Wall, adding that many people have warned him of such an effort, even before he was elected to office. "It was common knowledge among my officers that I needed to be careful. : My officers told me, 'Gary, you better be careful.'"
- To reach Brandon Gee, call 871-4210 or e-mail bgee@steamboatpilot.com