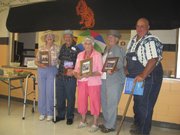 Hayden — The Pioneer Picnic wasn't a sad event, but a few who attended were dabbing at their eyes midway through the lunch.
The crowd seemed moved by the young performers who provided music at Sunday's picnic at Hayden Middle School. The first tears came out when Michael Zehner sang "Oh, What a Beautiful Mornin'" from the musical "Oklahoma!" Michael sang a cappella, and his powerful voice resounded in the cafeteria.
The Moffat County High School student and his co-lead from the musical, Emily Hepworth, performed three songs.
The two were followed by a set of brothers from Craig, Kearn and Tyler Gerber. Kearn, 10, sang and played the guitar, and Tyler, 12, played the fiddle.
The two boys were naturals at the microphone, wearing jeans, button-down shirts and white straw cowboy hats. They played a couple of their grandpa's favorites, including "Red Wing."
"When they first started (playing), I thought, 'They've got to play that one for me,'" said the grandpa, Erv Gerber of Craig.
"They're great," grandmother Arloa Gerber said.
The boys played "Cripple Creek" and several other traditional favorites.
"This is a classic song named 'Cotton Eye Joe,'" Kearn said before he and his brother launched into the number.
Sharon Compestine also gave a historic reading.
The performers were a significant addition to the picnic, and not just because of their talent, organizers said. Michael's family has been in the area since 1897, Judy Green said. His father, Dave Zehner, owns Precision Excavating in Hayden.
The Gerber boys, whose parents are Wade and Tinneal, are fifth generation in Moffat County through their father and sixth generation in Routt County through their mother. Their grandparents from Routt are Kimble and Robbie Frentress. That side of the family arrived in the Yampa Valley in 1889.
"We're here because of our heritage, people that came into the valley in the late 1800s, early 1900s," Green said to open the picnic. "We're here to appreciate all their hard work, their tenacity of staying on the ranches and businesses and farms."
But the event wasn't just about folks with a long history here.
"All of those who don't have roots that far, were glad you're here, because we have to continue it," Green said.
About 70 valley residents new and old attended. They ate pork donated by City Market in Steamboat Springs and beef from the Routt County 2007 Grand Champion Market Steer, donated by Mountain Valley Bank and the Hayden Mercantile. They also dug in to pasta, potatoes, salads and desserts brought by their neighbors.
More than half of the crowd participated in the hat theme. Several won books and historical photos for their efforts.
The winners were:
- Most fun: Donna Hellyer of Hayden for her umbrella hat
- Most flowers: Katherine Gourley of Steamboat
- Most unique cap: "Comp" Compestine of Steamboat
- Oldest hat: Judy Zehner of Hayden
- Best hatless person: Richard Baker of Steamboat
The picnic is set to be in South Routt next year.
- To reach Blythe Terrell, call 871-4234
or e-mail bterrell@steamboatpilot.com