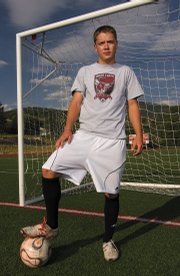 Steamboat Springs — When the varsity soccer players return to Mesa State College in August for the start of two-a-days, Nick Labor plans to be there.
The 2007 graduate of Steamboat Springs High School spent his freshman year at the Grand Junction college doing anything and everything to grab the attention of head soccer coach Josh Pittman.
"Nick did a lot to get my attention," Pittman said last week from his office at Mesa State. "He was instrumental in setting up and running our club team last year and has worked really hard to stay in top shape. He's a solid player and really wants to be a part of our team."
Labor said his late decision to attend Mesa and play soccer during his freshman year hampered his efforts to make the roster in 2007.
He had to wait until the end of the regular season for a chance to walk on to the team, but Labor never gave up, Pittman said.
He's worked hard to remain a part of the team by organizing and coaching the club program, and Pittman rewarded him with the chance to take the field for several of the Mavericks' spring games, including contests against the Air Force Academy and the Colorado School of Mines.
Based on his performance in those games, the former Steamboat Springs High School standout was asked to join the varsity squad this fall and will be battling for playing time on the talented varsity roster.
Two-a-days start in early August, but Labor says he's been preparing for more than a year.
"I had the idea that I wanted to play last year, so I started a personal workout program, paid attention to my nutrition with lots of fruits and vegetables and I was also running and lifting," Labor said.
After his strong showing in the spring, Pittman put Labor on a more structured workout program designed specifically for the players on the varsity program. Labor says the Mavericks' conditioning program is challenging, but he's been working hard to follow it to the letter.
"There's a lot of running," Labor said. "But I know that I need to stick with it if I want to push for a starting position this season."
The Mesa State men's soccer program was new in the 2007-08 school year. However, Pittman guided the team to a 7-6-4 overall record and 6-5-3 in the competitive Rocky Mountain Athletic Conference that features teams such as Metro State, Fort Lewis and Regis.
Last season the Mavericks placed fifth in the conference despite a slow 0-5-1 start. The team was 7-1-3 in the squad's last 11 games and tied powerhouses Fort Lewis and Metro State in mid-October. Metro posted the best regular-season record last season but was upset by the Colorado School of Mines in the semifinals of the RMAC men's soccer tournament. Fort Lewis College went on to defeat Colorado School of Mines in the championship game.
"It was a good start for our program," Pittman said of the first year. "Now we have to go out and build on that."
Labor hopes he can help with that building process when he begins working out with the team in August.
"Nick has earned the chance to challenge for a spot on this team," Pittman said. "He's a solid player who put in a lot of hard work and showed a lot of desire last season."
Pittman said the small number of men's soccer teams across the country means earning a starting spot on a varsity team is extremely difficult for players. This season he will have 33 varsity players fighting for 25 slots.
Labor says he is confident he will keep the varsity spot that he's already earned and has set his goal on gaining playing time.
"I don't want to be one of those players who is just along for the ride," Labor said. "I want to get out there and play."
-To reach John F. Russell call 871-4209
or e-mail jrussell@steamboatpilot.com