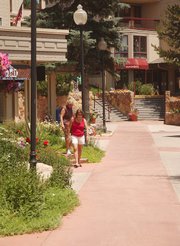 Steamboat Springs — It's not easy to run a store when everyone thinks you're closed.
But with the shutdown and planned demolition of most of Ski Time Square, that's the problem some Torian Plum Plaza shops are encountering. Business owners said traffic has been light.
"This is the worst that it's ever been in the history of the ski area," said Jerry Kozatch, vice president of Ambiente Home Accents and Gifts. "There is nobody here."
Kozatch attributed the dismal scene to the economy and confusion.
"There's a perception that the construction is tearing down everything," he said. "It's really not tearing down everything, just almost everything. : There are very few businesses left up in Ski Time Square. : There's very little draw for people to come up."
Kozatch said he and other Torian Plum area businesses have banded together to advertise that they're still up and running.
Down the sidewalk at Stephen's Furs and Outerwear, owner Stephen Sanders was more optimistic. The summer has been slow, but he said a sale last weekend brought in traffic. Still, he said the period from Memorial Day to Independence Day was rough.
"We're in a mall, if you think of all this as a mall, and 70 percent of it is closed," he said. "With this economy, it presents a very challenging atmosphere."
Sanders said he was looking forward to the mountain area being built out with lodging and retail after Ski Time Square is gone.
"I believe more is better when it comes to stores," he said. "It's more conducive to shopping."
A few stores are open in the area. Across the road in Ski Time Square, the only remaining business, the Tugboat Grill & Pub, still is serving up grub. The restaurant's lease expires Aug. 31 and its future is uncertain.
On Wednesday just before noon, fewer than 10 people passed through Torian Plum Plaza. Slopeside Grill was empty. A few customers scoped out baubles inside the Silver Lining, a bead and jewelry shop. Business there has been better than expected, Manager Chelsea Babb said.
"We've found that people are around and want to shop," Babb said. "They want souvenirs."
The Silver Lining has seen a mix of tourists and locals, she said.
"We've had people who are curious about what's going on up on the mountain, what's being torn down, what's changed," Babb said. "Curiosity is bringing people up here."
Business has been slower than last summer, she said, but it has picked up in the past couple of weeks.
Kozatch described the conditions at Ambiente as "the imperfect storm." Parking also is an issue because people don't know about the underground garage and are nervous about the construction, he said. The retail climate is disappointing, he said, describing the good qualities of Torian Plum Plaza.
"We call it a little oasis because it is quiet," he said. "We've got a garden-like setting. There's no noise, there's no mess, and we do have this covered parking that keeps your car and everything else cool. : That part of it's nice. We just need more bodies up here, and I don't know how to do that."