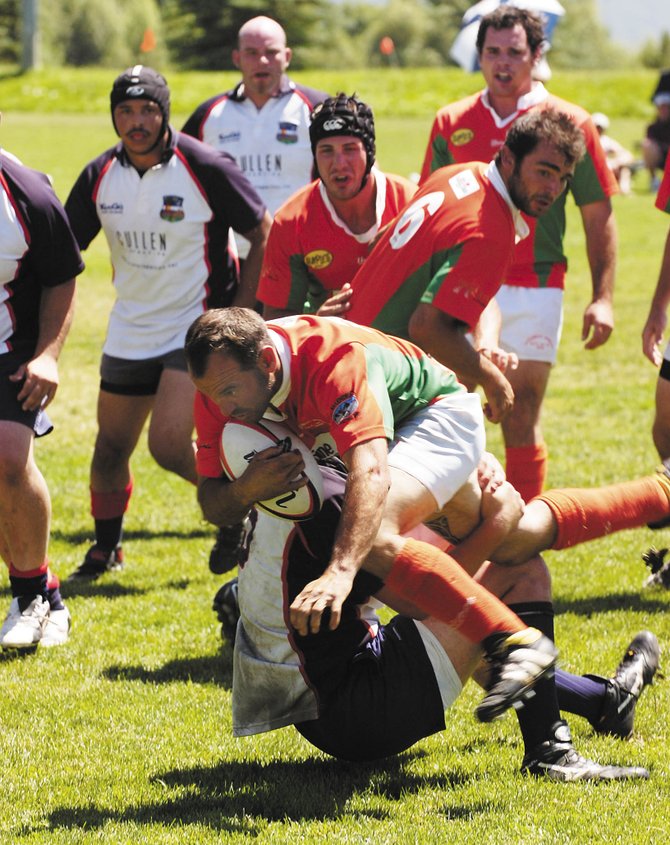 Steamboat rugby squad wins three in Cow Pie tourney
Steamboat Springs — As battered, bruised and busted up as the Steamboat Springs Rugby Club was Saturday, there wouldn't be any excuses during the opening day of the 34th annual Cow Pie Classic Rugby Tournament.
The green and orange did their job despite several starters being unable to play because of injuries, picking up wins against Fort Collins, with a score of 71-7; Boulder, at 29-10; and Glenwood Springs at 13-10 to advance to today's finals. Steamboat plays Vail at 2 p.m. at the Ski Town Fields on Pine Grove Road.
It's the second year in a row Steamboat has made the finals of the Cow Pie Classic. Last year, Steamboat beat Wyoming to win the Cow Pie for the first time since 1981.
"The first game (Vail) surprised us," Steamboat's Charlie Pappas said of Steamboat's opening-season loss to Vail. "I know there have been some excuses for that one, but there should be no excuses. We didn't play up to our potential."
After rolling through Fort Collins and a pesky Boulder team, Steamboat had to play Glenwood Springs, a team composed of players from Glenwood and Aspen.
The two teams traded penalty kicks in the opening of the first half before a second Steamboat penalty kick right before the half sent the green and orange up 6-3 at halftime.
After Steamboat missed a penalty kick, Glenwood finally broke through with a try. The conversion gave Glenwood a 10-6 advantage with less than nine minutes remaining.
"We had to harden up," Pappas said. "We knew we should be winning with all the potential we have."
Steamboat moved the ball into Glenwood's territory. The action was at a stalemate when Steamboat's Tony McKendrick broke through the pile for the game-winning try with less than seven minutes remaining. The conversion put Steamboat up for good, 13-10.
"It was close. It was do or die," McKendrick said. "I knew it might be our last chance, and something needed to happen."
Now, Steamboat moves its sights to Vail, a team that beat Steamboat, 31-13, earlier this season.
In that game, Steamboat struggled to tackle, allowing Vail a pair of long second-half tries.
"It's going to be a tough game," McKendrick said. "Both teams come in carrying a few injuries. The winner is going to be who turns out on the pitch and shows up."