Steamboat Springs — Anyone who says there's equality between the sexes in the business world probably hasn't seen the numbers.
Example: In 2006, female workers older than 16 earned a median weekly wage of $600, according to U.S. Bureau of Labor Statistics figures. Men earned $743 a week.
But a solid group of Steamboat Springs women have avoided being steered by the influences of history, opting instead to captain the ship.
The task is not always easy, but these four say it's definitely worth it.
Ashley Edinburg and Melinda Miller, Embellishments
For the mother-and-daughter team that runs this Eighth Street furniture and gift store, cultural differences bring out sex issues. International trade can be tough for a pair of women, they said.
"In Mexico, you run into a little bit of machismo," said Miller, who is Edinburg's mother.
Both have learned Spanish, which helps, Edinburg said. But they still are sometimes quoted outrageous prices.
"We'll ask how much something is, they'll tell us the price, and we burst out laughing," Edinburg said. "But as our Spanish gets better, we get more comfortable."
She is the spicier of the pair, and her mother was quick to soften a few of her statements. Edinburg opened Embellishments using the name of the business her mother and stepfather ran in Cleveland. Miller, who is a 50 percent partner, came to Steamboat three years ago with her husband, Thomas.
Running the store was a challenge, and people from out of town often haggled with Edinburg over prices.
"When we opened the store, I was 28, so I got bullied around a lot at the beginning," Edinburg said. "Everyone would ask me if they could talk to the owner, and I said, 'I am the owner.'"
Neither she nor Miller has formal business training. They have built and changed their store to accommodate the changing customer, Edinburg said.
Embellishments is a warm, soft place, bathed in rich colors and inhabited by a beloved pug named Earl. The shop is family-friendly, said Edinburg, whose daughter, Paloma, is nearly 2.
Earl helps maintain that welcoming vibe.
"Earl keeps the kids and husbands occupied," Edinburg said. "The husbands come in, and they throw themselves on the floor with him."
They must be doing something right. Edinburg and Miller say their flexibility has led to success, and the store has been open 10 years. The partners urged would-be business owners not to be rigid. They have adapted to a tough Steamboat audience.
"One of the biggest challenges we find in Steamboat is that people are so active, so outdoorsy," Edinburg said. "People spend all their time outside and all their money on toys."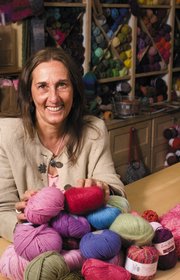 Jodee Anderson, the Fiber Exchange
Jodee Anderson can tick off her careers on her fingers. She has designed leather clothing, worked as a landscape designer and held a state environmental commissioner position in Vermont.
She's also a weaver, fabric designer and owner of the Fiber Exchange, a yarn shop downtown. She moved last summer from 68 Ninth St. to a smaller store at 624 Lincoln Ave., down a corridor off the main drag.
Anderson said it was tough to make the numbers work in the pricey downtown area. She used to weave on looms in the shop, but she moved that element to a studio in Copper Ridge Business Park. She cut her 10 employees to five.
"I don't make enough in the winter season to pull through the year, so I had to revisit my business plan," Anderson said.
She was frank about her reasoning: "I had to choose between going out of business and staying in business. I wanted to stay in business, so I had to downsize."
But Anderson didn't dwell on those challenges. She spoke warmly about her job and the community of customers.
The tourists who visit her shop each year have made a point of finding the new location, she said. She offers after-school programs for children and has organized weekly gatherings for knitters and crocheters.
"I feel like I'm a service to the community, and it's a very hard community to make money in," she said. "The nice thing is I have some wonderful local customers that help keep me going."
She comes across as having an astute business mind and said she has learned from experience. In her previous businesses, Anderson didn't have to depend on walk-in traffic.
"There's all sorts of retail tricks I didn't know," she said. "I'm learning them. : I'm an artist trying to learn business."
Anderson's family has guided her career. She and her husband, Towny, have two children. When she was in the design business, Anderson made sure to be home when school let out for Paisley and Jennings. She quit her government job after 3 1/2 years because it took up too much family time.
"Whatever it was, I had to reconfigure my life around the dynamics of my family," she said. "I don't begrudge that at all - that satisfied more of me than my jobs did, and I have two great kids to show for it."
Anderson said that family focus makes her an understanding employer. She works around her staff members' schedules and family needs.
For now, she is focusing her attention on adapting to the Steamboat business community.
"I'm a designer, but I don't get to do much design," Anderson said. "I'm designing where the business goes next."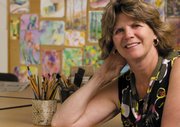 Diane Davis, Steamboat Arts & Crafts Gym
Diane Davis loves to garden. Five years ago, she took a look at some irises and thought, "Wouldn't it be nice to paint them?"
Her thought led to painting classes. Her painting classes led to frustration with trying to paint at home. Her frustration led to the dream of a Steamboat Arts & Crafts Gym.
No one told her how hard it would be.
The concept was this: People get a membership, as they would at a fitness center, and they can use the gym's art equipment and store their own equipment there.
It was a tough concept for people to understand. But Davis pushed.
She and her husband, Gene, rolled up their sleeves and headed for business classes through the First Steps program at Colorado Mountain College. She started out just investigating - not thinking she would follow through. But Scott Ford encouraged and mentored her at CMC, and she and Gene started looking for locations.
They bought a spot in a warehouse on Twentymile Road.
"I could feel it," she said of the location. "I was like, 'This is it.'"
Diane and Gene closed on it in August 2006. By the holiday season that year, the gym was in business.
"I never thought I could do anything like this," Diane Davis said. "I'd always worked for a paycheck. I never worked for a dream."
Davis has built it slowly, adding art classes and children's programs a sprinkling at a time. Like Anderson, she sees her business as a service to the community. And like Miller and Edinburg, she has had to adapt.
"I had to be really flexible to do this, because they'll eat you up out here," Davis said. She still works a telecommuting job full time, which has meant long, long days. The arts and crafts gym is closed Sundays.
Davis dealt with a lot of naysayers.
"When people said I couldn't do it, I was quiet," she said. "But I was thinking, 'Watch me.'"
Davis grew spiritually as she built the business.
"For me, it's a big faith or trust thing," she said, tears filling her eyes. "It always gets me emotional."
Like Edinburg, Miller and Anderson, Davis has fought her way through what can be a hostile business environment. She's put her heart and soul into her project, where art overflows across walls and peeks out of every corner.
If she can create a successful business, Davis said, anyone could.
Her advice to other women? Don't dare give up.
"You can't quit till a miracle happens," she said with a smile.