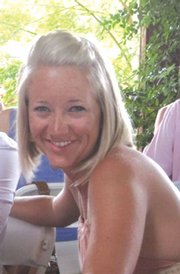 Steamboat Springs — Age: 24
Occupation: Office manager/Account executive for NRC Broadcasting
Place of birth: Blowing Rock, N.C.
Q. When did you move to Routt County, and what brought you here?
A. I moved here in fall of 2006. I had just graduated from college in South Carolina and my friends and I were ready for an adventure.
Q. What's the biggest risk you've taken recently?
A. Giving up my ski bum lifestyle for a grown-up job!
Q. Describe your morning routine.
A. I jump out of bed around 7:30 a.m., shower, let my dog out, run out the door, and try to make it to work by 8 - usually unsuccessfully.
Q. Has a book ever changed your life? What was it and why?
A. I read "The Lovely Bones" a few years ago, around the time I had lost a few close friends, and it was able to offer me some perspective on dealing with death and the afterlife.
Q. What three things would you want people to know about you?
A. I'm from the South, I have a beautiful twin sister, and my dog bullies me around.
Q. What did you want to be when you grew up?
A. I don't think I really grew up until college, and that's when I decided I wanted to go into communications.
Q. If you could invite any four people to dinner, who would they be and what would you talk about?
A. My mom, my dad, my twin sister, and my paternal grandmother. She had severe Alzheimer's before my sister and I got to meet her, so I would love a chance for all of us to sit down and catch up.
Q. In the Meatloaf song, "I'd do anything for love, but I won't do that," what is that?
A. Lose my dignity. It's happened before and I refuse to let it happen again!
Favorites
Book: "The Lovely Bones" by Alice Sebold
Song: "Holy City" by Edwin McCain
Color: Pink
Food: Sushi
Sport to watch: Carolina Panthers football
Vacation spot: Sullivan's Island, S.C.
Recreational activity: Skiing
Movie: "The Notebook"
Magazine: US Weekly
Do you know someone interesting who you would like to see profiled? Call Margaret Hair at 871-4204 or e-mail her at mhair@steamboatpilot.com