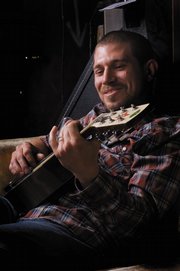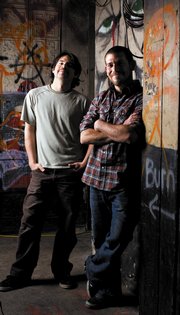 Visit ww.myspace.com/americanrelay for an updated schedule of shows
The location makes sense.
They head for the 1889 State Armory building, in the heart of Denver's Curtis Park Historic District. But it's deeper than that, beyond the stuccoed exterior of the historic building with the three-story tower standing against a swanky new downtown loft development.
Nick Sullivan and Alex Hebert head down into the crumbling bowels of the old building to a windowless corner space of exposed pipe and brick. And then they head back. Back to this Five Points Neighborhood's roots as the West's cultural center for live jazz and blues, where sounds from the Mississippi Delta still resonate.
It's only fitting that below the coliseum-like main floor that once hosted boxing matches where stories of Jack Dempsey's fights live on, that Sullivan and Hebert combine the basic elements - guitar, vocals and a drum beat - and wrestle with their own demons to resurrect a certain sound from this past while adding their own visceral take on blues rock.
The first thing you notice about Sullivan and Hebert's two-piece outfit, American Relay, is the roadhouse muscle and the possessed urgency. You see music from the gut in the sheer amount of sweat coming out of Sullivan as he bellows lyrics and powers the guitar to the force smacking the 1972 Ludwig drum kit or the washboard in front of Hebert.
What doesn't make as much sense is that this soulful, off-the-front-porch sound is coming from a pair of young men with their own roots far from the Delta. Both claim Steamboat Springs as home.
But this ain't no mountain jam band.
An edgy, raw sound
Hebert says their "roots rock 'n' roll" sound is a result of a simple pursuit of passionate, honest music. After culinary school, he dabbled in a few local punk bands between kitchen shifts but was always looking to start a blues band in Steamboat, searching for that edgy, raw and real sound - "dirty" is the word that comes to mind when he searches for a genre label - "this dirty blues thing."
Of course, defining the sound by what he didn't want to play was always easier.
Hebert posted a bulletin ad on campus while attending the University of Colorado at Denver. The message was simple: Drummer looking for something new; no indie rock, no pop punk, no rap rock, no jam bands.
"Rap rock was still prevalent," Sullivan said, looking back to a period otherwise known as 2003.
But what caught the attention of Sullivan, who was playing music and studying audio engineering at UCD, was the name of Mississippi blues legend R.L. Burnside that Hebert had listed under bands he connected with.
From there, Sullivan and Hebert toyed with sounds in the armory building basement as various acquaintances would come and go, playing along and adding some digressions without anything really gelling. But after soaking in a juke joint blues performance of the classic guitar-drums duo of James "T-Model" Ford and the late Paul "Wine" Jones, Sullivan and Hebert realized they really only needed two pieces. Within three weeks, they had enough "pseudo songs" for their first live set at an East Colfax dive.
That was four years ago.
Live music scene
With each gig and each collaboration, American Relay began finding its sound and establishing a foothold in the stratified landscape of live Denver music.
Rikki Styxx knows that scene all too well.
"I go to probably three shows a week, and I've been in the scene for six years - in a punk band, a surf band and a bluegrass band," said Styxx, who drums for the Denver City Saltlicks. "There's no two other people you could put on stage to make it sound that big that are in Denver - they fill the void of everything out there where some bands with four or five people don't cut it.
"Blues bands are great, but to come in and throw the edge on it like they do, they're hands-down my favorite local band. They have something and could do something with it - there's nobody else in Denver doing it."
She wasn't the only one who took notice. With the June 2007 release of American Relay's self-produced, full-length LP "Corn & Oil" came the beaming Denver Westword reviews and the No. 7 rank on The Denver Post staff writer John Wenzel's list of the best local albums of 2007. The product armed the band with the fodder it needed to expand tours outside of the main vein running between the two-gig hubs of Steamboat and Denver.
That doesn't mean things came easy on a self-booked (and self-funded) two-month tour across the West this fall. They took a bit of a financial blow with the misadventures of a rented minivan. By the time winter tours rolled around - highlighted by a hometown April 5 performance in Gondola Square for the Steamboat Ski Area's Springalicious festival - the process had become streamlined: two dudes in one Subaru, packed in front of a dense puzzle of sound equipment.
"The key to any good band comes from Tetris skills," Sullivan joked of the road rig.
Hard work, suffering
If Sullivan and Hebert didn't know each other growing up in Steamboat - Sullivan graduated from Steamboat Springs High School in 1999 while Hebert, whose father and mother work abroad for the United Nations and Catholic Relief Services, respectively, spent most of his middle school years in Steamboat before heading to Europe for high school - they spent plenty of hours on the road this spring during a 16-day, 11-stop spring tour that ended in Reno, Nev.
"The last year and a half, it's been a lot of hard work and suffering to get where we're at right now," Sullivan said. "I'm proud of where we're at right now. : And to do all right in Denver - Denver's a pretty tough town to separate yourselves from the other 10,000 bands."
And building that crucial fan base beyond Denver came down to another mile traveled, another return trip to a town, and another live show where Hebert says, "It's give everything you've got."
There are now bigger bands to share the stage with and bigger paychecks. But not big enough to warrant a booking agent, a manager or, most important, enough to quit their day jobs.
John Wesley Myers doesn't question American Relay's ability to make that final step: making a living doing what they love - performing live music on the road.
Myers, the son of a Baptist preacher from Port Arthur, Texas, has been touring internationally with his band, Black Diamond Heavies, for the past four years. A keys-drums power duo with a similar punk-blues hybrid sound that features Myers and drummer Van Campbell, Black Diamond Heavies shared the stage with Sullivan and Hebert at an April 24 Denver show and will do so again July 18 to 20 at the Deep Blues Festival in Lake Elmo, Minn. And although landing a contract with Alive Records a year and a half ago helped solidify that final, full-time step for Myers, the big record deal wasn't the financial end-goal it used to be. In fact, Myers saw his band's capacity to support itself and to self-book tours, produce and distribute its own records as the main selling point that led to the deal, not the other way around.
"They're on the right track because they're doing it themselves," Myers said about American Relay from his cabin in Wildwood, Ga., before a four-week, six-country tour of Europe in May. "Waiting around for someone to discover you is a thing of the past - you can do it yourself. It takes balls, and they're on it."
The other reassuring pattern Myers noted was the hunger in European audiences - and growing stateside as well - for throwback music with depth and soul.
"When I hear you sing, I want to believe that you believe, so it's not defined so much as released," Myers said. "It's not contrived, it's, 'OK, you want a glimpse?' Here's what I got inside."
Or as Sullivan explains it: "A lot of the reason why I love blues, and older blues is where you can actually hear that, where it's meant to be physical in a certain way and it's meant to be aggressive - it's in what we'd like to see happen because it is something that's so instilled in foundations of American music."
Defining the label
That genuine release from Sullivan and Hebert makes Myers think American Relay is "right on the cusp of something big" and that it doesn't matter that their roots rest on the headwaters of the Yampa, not down in the Delta.
"Rather than trying to imitate, you filter it through your own environment and experience," Myers said. "(American Relay) isn't trying to be from Mississippi, they're taking the music they love and putting a new spin on it."
That means a live Relay revival can put an authentic twist on anything between an Elmore James or Willie Dixon classic to a rabid, howling take on the Beatles' "Helter Skelter," to the downright wackiness of Depeche Mode's "I Feel You."
But for Sullivan and Hebert, it's that honest projection, that glimpse of what's inside that will keep driving the collaboration forward on the road and will get the duo back in the studio this summer.
It also defines the label of an "American Relay" - the "intellectual addiction" Sullivan describes to continue accessing the blues, evolving and proudly relaying our country's own native and latent sounds back to hungry audiences.