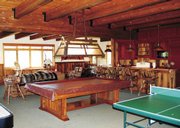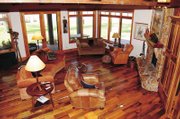 Steamboat Springs — The next owner of Cottonwood Ranch will acquire some of the best trout-fishing habitat in Routt County. Along with a carefully restored stretch of the Elk River, the buyer will get the bonus of 182 acres, including hay meadows, and a 6,300-square-foot home that makes an ideal sportsman's retreat. There are sturdy outbuildings, and senior water rights that date to 1988. And there's more fishing in a live pond with sustaining aquatic invertebrate life that encourages trout to grow plump.
Cottonwood Ranch is listed by Stephan Baden of RE/MAX Steamboat for $8.9 million.
"It will definitely be a sportsman who buys this," Baden said.
Not to be overlooked is a private steel bridge spanning the Elk that is wide enough to allow the owner to cross over on an all-terrain vehicle or snowmobile without having to illegally enter Routt County Road 42.
The ranch straddles the Elk River less than a mile from the junction of county roads 42 and 44, eight miles west of downtown Steamboat Springs.
The rustic recycled white oak flooring sets the tone for the home, which offers six bedrooms and a bunk room, plus five full baths and two half baths.
"The custom-built reclaimed white oak cabinetry was built by local craftsman Rich Tucker," Baden said. "Improvements to the out buildings and an addition to the home were built by Steamboat contractor Ron Mangus."
In addition to the views of the river from the hot tub deck, one of the outstanding features of the home is a large game room with paneled and timbered ceilings. Again, the design aesthetic is set by a rustic detail - in this case a large farm sink behind the bar. There is ample room not only for a full-sized billiard table, but also a pingpong table and full-length shuffleboard table such as those found in Midwestern taverns.
As impressive as the buildings are, it is the length to which the current owner went to improve the fishery that will make the biggest impression on an avid sportsman. Shortly after purchase, the owner undertook a thorough rehabilitation and enhancement of the natural systems of the ranch, which include active wetlands as well as the river itself.
Consultants and contractors working on the project include Aquatics Associates of Fort Collins, Basin Hydrology of Steamboat Springs, and Riverkeeper of Routt County.
Bill Chase of Riverkeeper has been involved with the Cottonwood Ranch project since 2002 and continues to closely monitor the health of the river and pond several times a week.
The river, since its restoration, reflects a good balance of riffles and pools deep enough to allow rainbow and Snake River cutthroat trout to grow to 27 inches, Chase said. They grow that large on a diet of aquatic insects and a significant number of smaller species of fish that suggest to savvy anglers what pattern to cast into the Elk.
"There's a real wealth of forage fish in that stretch of the river," Chase said. "It's a great streamer river. You can always take fish on the ranch with a streamer. There are also significant caddis hatches beginning as the river starts to go down, usually during the first week in July."
By the second week in August, there is a wealth of terrestrial insects falling into the river from the restored streamside vegetation.
Mayfly hatches are a little more elusive.
"You'd have to live here to hit those hatches of baetis in the spring and fall and mahogany duns," he said.
One day in August, Chase said, two anglers came back to the ranch headquarters talking about catching and releasing 20 fish and missing 20 more while using flies meant to imitate grasshoppers.
Cottonwood Ranch owns property on both sides of the Elk. There's enough water that an angler would not typically cover all of it in an evening.
In addition to the river, the quality of the grass hay fields also has been restored, Baden said.
Longtime lower Elk River Valley rancher Don Sherrod, who lives nearby, handles the major agricultural work including pasture aeration and seeding.
Baden said the opportunity to build an additional residence and a horse barn should not be overlooked.
"There's nothing else like this ranch," he said.
- To reach Tom Ross, call 871-4205
or e-mail tross@steamboatpilot.com