Photo Gallery
Centennial ranches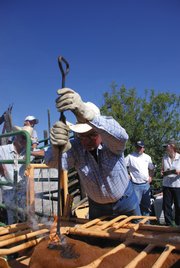 100 years and counting
A list of Centennial ranches in Routt and Moffat counties
In addition to Routt County's Larry and Mary Kay Monger Ranch, and the Jim and Jo Stanko Ranch, recognized as Centennial ranches in 2007, the region has seven others that have been in continuous operation by the same family for more than 100 years.
They include:
- The Mack Family Ranch near Craig Settled 1883
- Summer Ranch near Steamboat Springs Settled 1889
- Soash Ranch near Steamboat Settled 1904
- Zehner Ranch near Hayden Settled 1901
- Jerry and Judy Green Crags Ranch Settled 1895
- Hitchens Overlook Ranch near Milner Settled 1886
- Sullivan Ranch near Craig Settled 1884
You can still sit down for a cup of coffee in Steamboat with someone whose parents arrived here in a horse-drawn wagon or a stagecoach.
The American frontier persisted far longer in Northwest Colorado than it did in other places in the West. The Oregon Trail, the Union Pacific Railroad and the interstate highway system passed Steamboat by. Noted author John Rolfe Burroughs recognized the Elk and Yampa valleys as places where the West is still young.
So, when a family in Routt County can claim to operate a centennial ranch, you know the connection to the pioneers is a direct one.
The newest centennial ranches in the area were recognized in 2007. They are the Jim and Jo Stanko Ranch on Routt County Road 33 just three miles west of the city limits, and the Larry and Mary Kay Monger Ranch, a few miles farther west in the lower Elk River Valley.
Both families tell remarkable stories about grandparents who confronted considerable hardship to establish their subsistence ranches here. And both modern-day couples persist in ranching out of a love for the land and lifestyle that borders on stubbornness.
Running a small-scale beef cattle operation near the end of the first decade of the 21st century in Routt County is a struggle. It means having to resist the enormous pressure of a resort economy even as the support network of farm and ranch families steadily erodes.
Yet, persist they do. And they continue to attract the admiration of city folks eager to taste the ranching lifestyle, if only for one or two days a year.
Unorthodox cowpokes
The changes in ranching rituals were easy to spot during the centennial calf branding days at both ranches in late May 2007.
The Mongers branded first, and their cowhands included the rugby teammates of their adult son Mark. Some of them were relative greenhorns from the Netherlands, and others were experienced livestock men from New Zealand. One or two had the nerve to wear short pants in the corral while tossing 250-pound calves to the dirt.
They weren't old school, but they got the job done.
Branding day at the Stanko place a week later was part Wild West roundup and part company picnic.
Half of the weekend cowboys in Steamboat brought fancy quarterhorses to the Stanko Ranch, knowing they'd be invited to round up 85 cows and their seven-week-old calves from the lower meadow along the Yampa River.
There were some old-timers at the Stanko branding, and then there were adult son Pat's colleagues and their families. They work at a high-tech engineering firm on the northern Front Range. Branding day was an opportunity for Pat to share his ranching roots with suburban dwellers.
Jim Stanko's grandfather, Peter Stanko, came to New York in 1892 at age 13 from his home in the Austro/Hungarian empire. He came to his new country without his parents, his only companion a brother.
"I don't know if they jumped ship, or what," Jim said. "Because they didn't come through Ellis Island."
Peter Stanko went to work in the coal mines of Pennsylvania and was recruited to go to work in the mines near Walsenburg. In about 1901 he purchased his own saloon, and after becoming quite successful decided to abruptly change his line of work.
He moved to Steamboat Springs in 1907 and purchased 160 acres of unimproved land from the original homestead of Logan Crawford for $2,750. A year later, he built a three-room house for $1,500 in materials and $500 in labor.
Jim and Jo Stanko still live in a home built around the original house.
A pioneering cowgirl
If it seems improbable for a 13-year-old from what is now the Czech Republic to come to America on his own and work himself into his own cattle spread, consider how the Monger centennial ranch was established in 1907.
Adeline Johnson, at the age of 19 or 20, filed on her own homestead near the base of Elk Mountain. She built herself a little cabin and began life on her own in the Rocky Mountains.
John Monger, Larry Monger's grandfather, came into the country near Farnsworth Creek in 1903 and made a living growing and selling potatoes to the coal miners. Later, he freighted coal.
John and Adeline met through mutual friends, were married, and he moved to her homestead.
They had six children - two girls and four boys - in fairly rapid succession before Adeline succumbed to the flu epidemic of 1918.
Larry's father, Lloyd, was the second youngest and 2 years old when his mother died. Two of the children, including the oldest, were developmentally disabled.
John never remarried, but somehow he raised the children.
"I don't know how in the hell he did it," Larry said. "He was either very patient or very cold. The Wheelers and the Gray family probably helped him out."
Whatever kind of nurturing the children had, John managed to increase the family income by raising sheep. They were desirable livestock to raise because a man could profit from the wool and the mutton.
Making ends meet
Working off the ranch to bring in more cash has been a way of life for the Monger and Stanko families.
Larry Monger has a degree in agricultural economics from Colorado State University, and Mary Kay has a degree in fashion merchandising. Both are blessed with business minds.
But the economics of ranching are difficult even in good times. Larry recalls that in 1976, the market price he got for steers was 70 cents a pound. Fifteen years later, in 1991, in the midst of a bad year, the price was the same.
The Mongers actually lease their ranch from a family partnership comprising Larry and his two siblings.
Larry worked at the Energy Fuels coal mine for nine years before operations went underground, and he helped his father ranch at the same time.
The couple went into ranching full time in the mid-1980s, but they weren't putting it over the top.
"We kept getting further behind," Mary Kay said.
She put her degree to use, working in a downtown Steamboat clothing shop. Larry took a job as a night auditor at The Lodge condominiums near the base of the ski area. He was getting up and working the ranch every morning on three or four hours of sleep.
The family sold 50 cows and downsized after their children were grown and out of the house.
"That was an extremely, extremely hard decision to make," Mary Kay said. "We were pretty much forced out. We realized we were just going further into debt. We realized our dream of letting our son purchase the ranch was never going to happen."
Larry went to work at the Connell Gravel Pit to access health benefits. Now, the Mongers have launched back into ranching and farming full time.
Mary Kay bought a $95,000 tractor about a year ago.
"I decided if at the age of 61 I was going to spend nine hours a day on a tractor, it was going to have an air-conditioned cab and a CD player," she said.
To make payments on the tractor, the Mongers are getting ready to plant barley on the nearby 360 Ranch, which is slated for development. Later in the summer, they'll custom cut hay almost 15 miles away at the base of Rabbit Ears Pass on the former Norton "Gonk" Jacobs Ranch. It has been sold to a group which will sell expensive trout fishing memberships.
Ironically, if they didn't feel so attached to the land, they probably could sell their meadows fronting on the Elk River for millions.
A subdivision of 10, 35-acre lots is visible just across the fence line outside their kitchen window. The least expensive of the lots is for sale at $875,000, and the most expensive is $1.2 million.
But don't expect the Mongers to retire to Palm Desert any time soon. That would leave Larry without anything to do.
"I don't play well," he said. It's a reference to the fact that he's never had hobbies or pursued recreation off the ranch.
"We'll take care of the land until our dying days," Mary Kay said.
Off the ranch
The Stankos have followed a similar path to arrive at a different strategy.
Like their parents before them, the Stankos have worked off the ranch. Jo taught elementary school in the Steamboat public schools for decades and is now retired.
In the 1980s, when agriculture was in the dumps, Jim, who has a college degree in history and political science, went to work as a CSU Extension Service agent. He pursued that profession for 11 years, and when he became eligible for public employees retirement, he took it as a lump sum. The money was plowed back into new haying equipment so the Stankos could resume ranching full time.
More recently, the Stankos put their hay meadow under an agricultural conservation easement. Reserving land for a couple of building sites, they took $400,000 cash out of their deal.
They financial advisor urged them to go away and retire somewhere, but they used the funds to back the ranching operation. Like the Mongers, the Stankos have an expensive new tractor to go with the 1958 Ford that's still used to rake hay.
Today, Jim said, he's weighing a strategy that would allow him to spend the winters in Northern Arizona. He figures he can give up haying and raise yearling cattle instead of cows and calves. Or, he could give up livestock altogether and continue in business as a haying operation.
Whatever happens, the Stankos won't give up their agricultural lifestyle.
"The ranch is not a possession but a family member," Jo said. "Longtime leases are relatives, and owned land is an even closer relative."