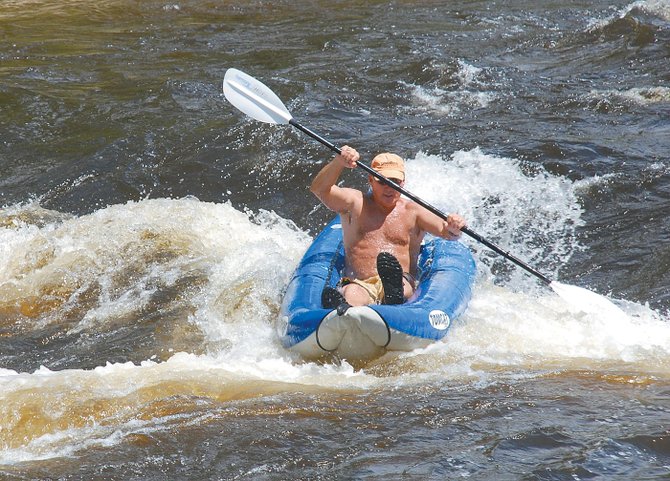 Tom Ross: Why can't we-e-e be friends?
Tubers, paddlers, anglers can successfully share Yampa River and enjoy resource
Tom Ross
Tom Ross' column appears Tuesdays and Saturdays in Steamboat Today. Contact him at 970-871-4205 or tross@SteamboatToday.com.
Find more columns by Tom here.
Steamboat Springs — Two kinds of yellow hatches were on the town stretch of the Yampa River at midday Friday.
Delicate, pale yellow mayflies were dancing above the riffles near Stock Bridge, and people riding giant, egg-yolk-yellow donuts were bobbing in the Z Hole.
Streamflow conditions in the Yampa below the Fish Creek confluence are the best they've been in more than five years. It's one of those rare seasons when tubing is in its prime, but the kayak play holes still are legit and the river has cleared up enough for dry fly fishing. It's also one of those seasons when we practice that time-honored Steamboat tradition of wrangling about conflicting forms of outdoor recreation. Naturally, the tubers get most of the blame.
People, why can't we all just be friends?
As a trout fisherman, I have a difficult time condemning tubing. It just strikes me as good, clean, American fun. It's the kind of lazy summer pursuit that Opie and Andy lived for in Mayberry. Of course, Opie and Andy loved them some bluegill fishing, too. And I don't mean to come off as sarcastic. Because I really think there's something about the simplicity of tubing that reaches deep into the id and finds the child within the man and woman.
That isn't to say I've never been irritated when a group of happy, smiling, floating people cruised right through a pod of rising trout I was casting to. The problem is, before you can cuss, they smile and wave.
The city of Steamboat Springs Parks, Open Space and Recreational Services Department has done a credible job of measuring the volume of tubers on peak summer days and regulating the commercial tubing industry. More than five years ago, they placed caps on the number of people who can rent tubes.
Ironically, the caps, which not infrequently cause tubers to be turned away from the cash register, have played a role in the number of freelance tubers on our river. Many of our repeat summer visitors, especially those with large families, have figured out that they can buy their own flotation devices and send the kids off to the river, where they will remain amused for the better part of the afternoon. And most locals have a tube hanging in the garage.
Anglers and paddlers are more closely aligned with each other than with tubers in many regards. That's because what's good for kayaking is good for fish.
The play holes and rock bars in the river oxygenate the water and deliver lunch to hungry trout lurking on current seams, long after the kayaking season has peaked.
The first kayak hole on the town stretch was probably the Rabbit Ears Hole, built just below the slalom course at the big bend in U.S. Highway 40 sometime in the '80s.
In the interest of historical accuracy, it should be pointed out that a significant number of boulders and rock wings were placed in the river by the Yampa Valley Flyfishers to improve trout habitat. Those same boulders formed deep tongues that made the current faster and more interesting to paddle.
Later, carefully engineered play waves such as Charlie's Hole were built specifically for kayaking.
Those improvements really gave rise to the commercial tubing industry that undeniably spawned the intense volume of tubing we'll see on the river during Rainbow Weekend. And we'll also see 100 swimmers jumping off the boulders into Charlie's Hole.
It would be great if freelance tubers this weekend acknowledged the city's request and left the river above Fish Creek to the fly fishers. But I'm not going to worry about it.
Tubers, paddlers and anglers - we should all be concerned about the health of the resource we love to wrangle about. You can show your concern by showing up at Backdoor Sports at 9 a.m. Monday for river cleanup day. Trash bags will be provided.