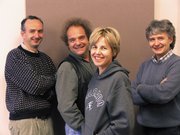 Steamboat Springs — Thirty-three years ago, four classical musicians came together in Budapest for one reason: the love of the medium.
"It's one of the most satisfying formations playing classical music, because it's basically four soloists on stage, so your voice can be heard," cellist András Fejer said about the chamber music that drew four string players together to form the Takács Quartet.
"You can be an individual, at the same time, you need to fit into the group, and it's just a fascinating progress," he said.
Fejer is one of two remaining original members of the Takács Quartet. The group has been in residence at the University of Colorado at Boulder since 1983 and will perform in Steamboat Springs for the first time Saturday as part of the Strings Music Festival. Filling out the ensemble for a Beethoven and a Schubert quartet are original Takács violinist Károly Schranz, 15-year Takács violinist Edward Dusinberre, and violist Geraldine Walther.
Describing the Beethoven piece as alternately mysterious, vivacious, triumphant, caressing and fiery, Fejer said Takács tries to think in terms of what a composer was trying to express, and how best to work with one another to express it.
"You have to be a soloist, and at the same time you have to be a support crew, as well, depending on what you need to play at that given moment," he said. "So it's a constant give and take with quick changes in mood and changes in role."
A good string quartet can play together as if they've been doing it for years, milking individual musicianship and an inherent chemistry to craft the best sound, Strings co-music director Yizhak Schotten said.
"When you hear a great violinist or a great violist or a great cellist, that's people who are the top of the line. And when four great people get together, they click, so to speak, and it's really fun to see it happen," Schotten said.
"It's a different type of thing. : When they have the same feelings about the music, you can disagree on some things, but you talk about it and come to agreement. Even if you play the first time with people like this, it just happens. People listen and watch and they bring their artistry to the ensemble," he said.
Schotten and Katherine Collier, his wife and fellow co-music director, have tried to bring Takács to Strings before, he said, but this summer is the first time schedules have lined up. Fejer said he is looking forward to the chance to play in Steamboat.
"It's nice finally to get invited to various Colorado venues, after having lived here for more than 20 years."