Past Event
Saturday, July 12, 2008, 9 a.m. to 5 p.m.
West Lincoln Park, West of downtown, near Bud Werner Memorial Library, Steamboat Springs
All ages / Free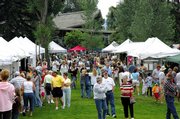 Steamboat Springs — An estimated 10,000 people will sift through West Lincoln Park this weekend for the 34th annual Art in the Park. And they'll do it for free.
That's a change from the original plan of charging a $1 admission fee, for the first time in 34 years, to festival attendees. "Support the arts" wristbands will be available for contributions of $1 or more.
Marion Kahn, executive director of the Steamboat Springs Arts Council, said event organizers rolled back the fee based on community response.
"It's pretty typical around the country that there are admission fees for festivals, but we're just not accustomed to that here," Kahn said.
The money raised by the proposed admission fee was intended to be a new source of revenue for new community programs, she said. The Arts Council hoped to use the money to jump-start an after-school arts mentoring program for at-risk children. Kahn and Arts Council events manager Rachel Radetsky said they hope the program still can be ready in time for fall, with the help of donations or grants.
"Any proceeds we make from the donations will always go back to the community," Radetsky said. "We do encourage people to wear their wristbands, just to show their support of the arts."
Leo Atkinson, a local rock-sculpture artist who has had a booth at Art in the Park for more than 15 years, said he plans to contribute $1 to the Arts Council for every rock geode he cracks during the festival. Atkinson, who regularly travels to art festivals and fairs across the state and country, said Steamboat's event has a down-home feel.
"I do Aspen next weekend, and it's a really good art show, but you don't find many kids there. It's not a family-oriented festival; it's an art show," he said, describing Art in the Park as "a real fun family festival."
Atkinson said his feelings on charging admission are mixed, and that the idea of collecting money for the Arts Council at the event might have gone over easier if it had originally been presented as a voluntary donation.
"You know, it's interesting, because on one hand, I do a lot of shows and there are some that will charge. But the $1, that's like a token," Atkinson said, adding that he would pay to go to the event, so long as the charge was reasonable.
Local silk painter Tinker Tiffany, who has sold her work at Art in the Park for 13 years, said the event's community orientation has made the location's load-in difficulties worth it through the years.
"It's a great fair, and I love how the community comes out and really supports it," she said. Tiffany went to three Colorado art festivals in June and will attend three more by the end of the month, and she said those that charge high admission prices typically are more focused on big-name entertainment than on the art itself. She said if an admission fee is a possibility for future Art in the Park festivals, it should be decided well in advance.
The Arts Council charges its vendors $250 a booth for members and $275 for nonmembers for the weekend. The rate is comparable with most festivals across the country, Radetsky said. The Arts Council does not take commission on vendor sales.
"That's something we've stuck by pretty firmly to not do," Radetsky said of taking commission. Art in the Park wares range in price from less than $10 to thousands of dollars.
"We have something for everybody, at every price. There are things that would be affordable for any of us, and then there will be high-end items for very special buyers," Kahn said.
This year's event features a family fun area with games, face painting, crafts and a magic marker graffiti wall, as well as expanded opportunities for live, local entertainment.
"I really would like to have that outreach so that people can have a chance to perform, and so other people will know what's going on in our arts community," Kahn said.