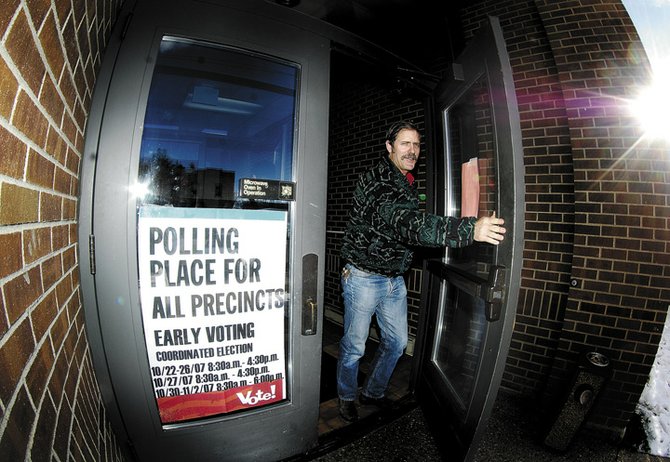 Primary deadlines approaching
Voter registration cutoff Monday
Aug. 12 Primary Election Information
The Routt County Clerk and Recorder's Office recently sent out voter registration and mail-in ballot applications. Voters may now apply for permanent mail-in status.
Voters are being asked to check the information included on their mailers and verify its accuracy.
Monday is the last day to register to vote in the Aug. 12 primary election. For voters who are affiliated with one of the major political parties, Monday also is the deadline to change party affiliation in time for the primary election.
Unaffiliated voters may select a party at any time up to and including primary election day.
- Aug. 5, is the last day to request a primary election mail-in ballot be mailed to you.
- Aug. 8, is the last day to request a primary election mail-in ballot in person.
- All mail-in ballots must be received no later than 7 p.m. Aug. 12.
- Voters with questions about the Aug. 12 primary election may call the Routt County Clerk and Recorder's Office at 870-5558.
Steamboat Springs — Registered Democrats who wish to vote in the Aug. 12 Republican primary have until Monday to switch their party affiliation. Monday also is the deadline for voters to register for the primary.
Local Democrats will not have a primary ballot in August, as there are no contested races, said Routt County Democratic Party Chairwoman Catherine Carson.
Republican voters will be casting their votes to select their party's candidate for House District 57. It is the seat being vacated by Rep. Al White, R-Hayden, who is seeking the District 8 State Senate seat in November. Republicans Randy Baumgartner of Hot Sulphur Springs and Dan Korkowski of Grand Lake are vying for the House seat, which represents Routt, Moffat, Grand, Garfield, Jackson and Rio Blanco counties.
"It's going to be a very short ballot, so to speak," said Routt County Republican Central Committee Chairman Vance Halvorson. The local committee does not play a role in the August primary and will support whoever is the victor, Halvorson said.
"We just leave it up to the candidates to promote it among themselves," Halvorson said.
Either Baumgartner or Korkowski will go on to challenge local Democratic candidate Todd Hagenbuch, a Phippsburg resident.
Voters who are not affiliated with a political party but who are registered may declare a party as late as primary election day, Routt County Clerk and Recorder Kay Weinland said.
As part of her office's "Don't Wait in '08" campaign, Weinland urged voters to be proactive and update their voter registrations and party affiliations early and take advantage of early voting and mail-in opportunities when possible. About 65 percent of Routt County voters cast their ballots early or through the mail in 2007.
For the August primary, early voting will be available at the Routt County Courthouse Annex from 8:30 a.m. to 4:30 p.m. Aug. 4 to 8, the entire week before the election.
"We like as many people to vote as early as possible to eliminate the lines on Election Day," Weinland said.
Five new electronic voting machines and an additional optical scanner to count paper ballots are in the election office, undergoing final testing for the primary, Weinland said.
The Routt County elections office also has been relocated from its former home in the Clerk and Recorder's office at the old courthouse to 624 Lincoln Ave., behind Rocky Mountain Chocolate Factory.
"We just needed more room," Weinland said.
Starting this weekend, the Routt County Democrats will be hosting a nonpartisan voter registration booth at the weekly Mainstreet Farmers Market, Carson said.