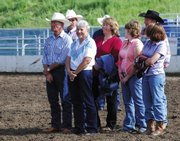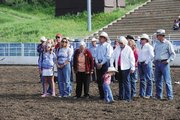 Steamboat Springs — Three longtime Routt County families were honored Sunday with a 2008 Heritage Family Award.
The Community Agriculture Alliance presented the awards before the Mountain Valley Bank Ranch Rodeo at the Brent Romick Rodeo Arena. Judy and Jerry Green, the Long family and the Monger family received the accolade.
The Greens were honored but not surprised to receive the award, Judy Green said last week. Her husband's family set up its ranch south of Hayden in 1895.
"We were very pleased that they would recognize Jerry's family and their endeavors in the valley throughout the generations," she said.
The winners provided their biographies to the agriculture alliance. The Greens have been involved in various aspects of county life, Judy Green said.
"Jerry's grandfather was a Routt County commissioner in the '50s and '60s; Jerry's dad served on the school board in Hayden; Jerry's great-grandfather who homesteaded was a page at the Capitol," she said. "They've always been involved in political parties. They've been very active in the community."
The descendants of the Long family run the Lazy J Quarter Circle Ranch in South Routt.
Dusty Long's paternal grandparents filed a homestead in the area 97 years ago, and his maternal grandparents arrived in the 1930s. Linda Long's sets of grandparents filed homesteads in 1894 and 1898.
Four generations live and work on the ranch now, the family biography states.
The Mongers and Johnsons came to Steamboat Springs in 1905 and 1901, respectively. John Monger and Adeline Johnson married in 1909.
Their son, Lloyd, bought a ranch on the Elk River with his wife, Evelyn, after World War II. The couple later bought the original family homestead at the base of Elk Mountain. Their son, Larry, and his wife, Mary Kay, now run Mountain View Ranch with other family members.
"We've been here for like 35 years," Mary Kay Monger said of the ranch. "We haven't run it solely by ourselves for that time. : Not too long before (Lloyd Monger) passed away, we took over the lease on it."
Routt County Commissioner Doug Monger, Larry's brother, has a ranch with his family near Hayden.
"It's a very nice award," Mary Kay Monger said of the Heritage Family Award. "It's an honor."
Judy and Jerry met at Colorado State University and taught high school in Grover. They moved permanently to the Hayden area in about 1980.
"I guess we like it," Judy Green said. "If we didn't like it and didn't want to be in the area, the family would have moved a long time ago. I guess basically it's home, and that's where the roots are."
-To reach Blythe Terrell, call 871-4234
or e-mail bterrell@steamboatpilot.com