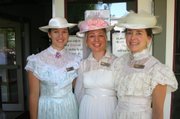 Steamboat Springs — Sporting Victorian hats and dresses that looked as though they were plucked from a Jane Austen novel, the staff at the Tread of Pioneers Museum turned heads and received compliments from the large crowd at the Pioneer Day Block Party on Friday.
Candice Lombardo, executive director at the museum, said the staff chose outfits from that time period to accompany the time period of the museum, itself a Victorian-era two-story house.
"If the museum staff can't be counted on to dress up in Victorian costumes for the Fourth (of July), then who can be?" she said as she handed out toys to children at the block party, an annual event at Eighth and Oak streets. "We looked at the pictures and tried to replicate what we see."
Crowds at the block party, when not complimenting Lombardo, enjoyed "Routt beer floats" sold by the museum, lemonade and ice cream sold by the United Methodist Church, and free hot dogs distributed by the Lowell Whiteman School and St Paul's Episcopal Church.
All 1,200 hot dogs were gone about an hour after the downtown Fourth of July parade finished.
"This was founded as a way to extend the tradition of the parade and bring people together," said Lombardo, who has worked for the museum for eight years. She has served as executive director for about five years and said she became interested in antiques when she was a young girl.
"My grandmother owned an antique business, so I would walk around all the antique malls and I loved the antiques," said Lombardo, who grew up in Louisville, Ky. That interest led her to major in anthropology and archeology at Tulane University in New Orleans.
She moved to Steamboat Springs 12 years ago and first worked for Yampatika and the U.S. Forest Service leading historical programs. When the museum had an opening, she knew it was a job, she would like.
"I'm completely fascinated with the history around here," she said. "I took the job and the rest is history."