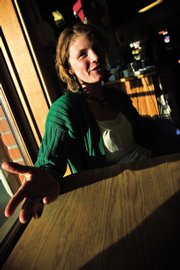 Julia Massey
Age: 25
Occupation: Librarian/singer
Place of birth: Balmer, Md.
Q. When did you move to Routt County, and what brought you here?
A. August 2007. A boy (aw shucks).
Q. What's the biggest risk you've taken recently?
A. Two fried fish Azteca burritos in one week.
Q. Has a book ever changed your life? What was it and why?
A. "Be Here Now" by Ram Dass. It convinced me that the universe is unfolding as it should.
Q. What three things would you want people to know about you?
A. 1. I love chocolate, especially in the form of gifts; 2. I work at the Bud Werner Memorial Library when I'm not crooning; 3. I accept chocolate gifts at my place of work.
Q. What did you want to be when you grew up?
A. Taller.
Q. If you could invite any four people to dinner, who would they be and what would you talk about?
A. Adyashanti, Chevy Chase, Barack Obama and Ammaji. We'd discuss all of the good that there is in the world, as well as how to get Chevy to make movies like he did in the "Fletch" era again.
Q. In the Meatloaf song, "I'd do anything for love, but I won't do that," what is "that"?
A. Put the toilet seat down.
Q. Who is your favorite superhero? Why?
A. Spiderpig. He makes Homer Simpson happy.
Q. Do you have a tattoo? If so, what of and why did you choose it?
A. A few, and Sarah Moy just put Ganesh on me; he is the remover of obstacles, so I figure he's convenient to have around all the time.
Q. If you could go back in time, to what event or time period would you go?
A. When Paikea first traveled to New Zealand on whaleback.
Q. What is your favorite thing to do in Routt County?
A. Soak.
Favorites
Song: "Wish You Were Here" by Pink Floyd
Color: Green
Food: Indian
Sport to watch: Basketball
Vacation spot: Zanzibar
Recreational activity: African dance
Movie: "Whale Rider"
Magazine: The Economist
Do you know someone interesting who you would like to see profiled? Call Margaret Hair at 871-4204 or e-mail her at mhair@steamboatpilot.com